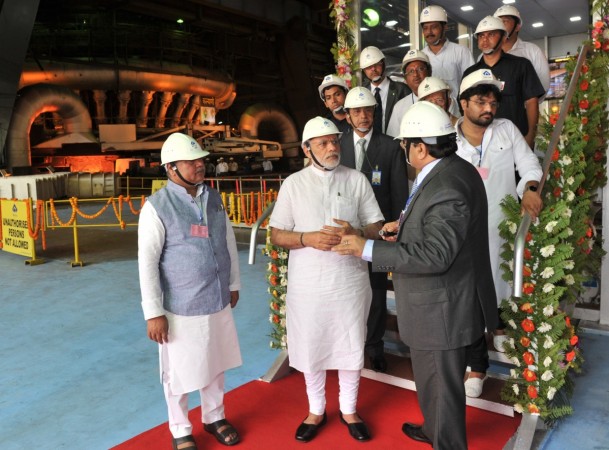 The Confederation of Indian Industry (CII) said on Sunday that the country did not witness any "big-bang investments" by the Narendra Modi-led government in its first year in office.
CII also said that the concerns related to ease of doing business haven't been resolved fully as yet.
CII President Sumit Mazumder termed PM Modi's aim to raise India's rank to the 50th position in World Bank's ease of doing business index in two years as "ambitious".
The country's rank slipped by two notches to 142 in 2015. The bank ranks 189 countries on the basis of procedures involved in beginning, operating, and shutting down of businesses.
India stood at the 116th position in the index when it was first launched in 2006.
"What has not shown is, no big bang investments have come on the ground. But that will take time," said Mazumder, in an interview to IBNLive, while discussing one-year performance of the Modi government.
The CII President wants more action from the government on the 'ease of doing business' front in order to contain the red tape.
"I really want to see that red tape to red carpet happen. I don't just want it to be statement. So that the application forms, inspectors, rigour that one has to go through to set up an industry is addressed, along with digitization of forms so that everything is quick".
Recently, the Modi government simplified the cumbersome processes involved in starting a company.
From 1 May, the corporate affairs ministry started providing one integrated company incorporation form instead of the eight forms required earlier, making compliance and reporting procedures easier for businesses.
The move comes in the wake of many startups choosing countries such as Singapore to register their companies so as to avoid the delay and hassles involved in starting business in India.
Singapore was ranked at No.1 in the World Bank's ease of doing business survey for 2015.
Mazumder expects the government's reforms process to gain momentum in the coming months.
"So, they (foreign investors) must gain the confidence that the situation is different today. There is a time lag between the action being taken and investments coming in. I am hoping that by the third or fourth quarter we should start seeing results," he added.
Of late, overseas investors have been criticising the Modi-led government for the slow pace of reforms; and some of them even said that the government is talking more and doing nothing.