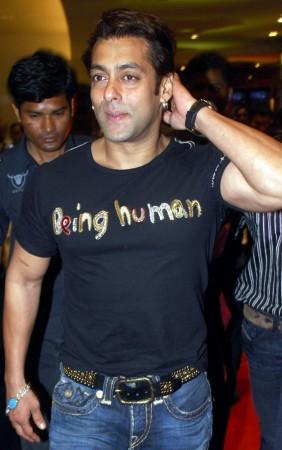 Actor Salman Khan has reportedly been told to stay away from performing action sequences in movies, following his neurological problems.
Salman, who has a neurological disorder called trigeminal neuralgia as well as an aneurysm in his brain, flew to the US for treatment last year, reported the Times of India. After getting a surgery done, Salman resumed the shooting for his film "Ek Tha Tiger" last September and is currently also filming "Dabangg 2," directed by his brother Arbaaz Khan.
But it looks like the actor has not fully recovered from his condition. According to reports, the actor has been asked to keep away from doing even simple fight sequences as they might cause him acute pain.
"Even a slight misjudged punch on the face could trigger off his condition and cause acute pain," the Times of India quoted a close friend of the actor as saying.
The friend revealed to TOI that Salman's family members are trying to keep him away from performing stunt sequences as much as possible.
This news has worried filmmakers who have booked Salman for their upcoming projects which involve dangerous stunts that need to be performed by the actor. The makers are said to be more concerned about Salman's health condition rather than their films.
Salman has signed a slew of action films including Arbaaz Khan's "Dabangg 2", Sohail Khan's " Sher Khan," and Shirish Kunder's "Kick."
All these movies involve stunt sequences in the movie. While "Kick" is touted to be an action movie, the actor will play a superhero with special powers in "Sher Khan." He is expected to learn a south Indian martial art to perform action scenes in the superhero flick.
While Arbaaz has already started using a body double to perform action scenes for "Dabangg 2," other filmmakers are also looking to bring in best stunt directors to shoot the scenes.
It is believed that Salman insists on being on the sets while action scenes are filmed. In a recent incident, during the shooting of "Dabangg 2," three technicians including two stuntmen and one photographer were seriously injured while filming a stunt sequence. They were immediately admitted to the hospital and are reported to be out of danger.
Salman himself is said to have had a narrow escape; the accident was caused due to an electric blast and Salman was just steps away from where the blast took place, say reports.
After the incident, Salman is said to have insisted on being present on the sets when action scenes are shot. But Arbaaz is trying to convince Salman to stay away from the sets, the source told TOI.
Does this mean an end to Salman's action films? Will we get back to seeing our beloved "Prem" Salman in the future? Only time will tell. Here is wishing Sallubhai a speedy recovery.