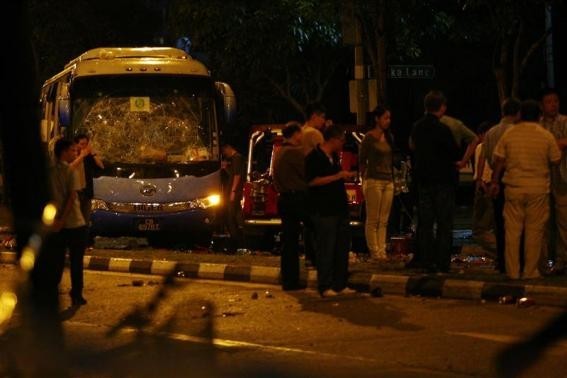 Singapore's home ministry has banned alcohol consumption for the coming weekend in and around Little India Race course Road, where the violent clashes took place in the country after an Indian national was killed in an accident.
As per PTI report, Second Minister for Home Affairs S Iswaran announced that alcohol consumption had been a contributory factor in the riot, in which 18 people were injured. "And that is why we have taken this step in the first instance in order to stabilise the situation," Iswaran said after visiting the area on Monday, along with Transport Minister and Member of Parliament for the area - Lui Tuck Yew.
The details on the timings and exact area where the ban would apply will be disclosed by the Singapore police soon.
"I know my residents will fully support this immediate measure," Liu said.
According to graphics in The Straits Times Local, the 33-year-old Sakthivel Kumaravelu was told to get off when he tried to forcibly board an already full bus as he was drunk.
"Kumaravelu got off the bus but was pinned under the rear left wheel when the vehicle made a left turn," reported the news agency.
A crowd of nearly 100-200 people blocked the police rescue team from extracting Kumaravelu's body and reportedly threw bottles, chairs and projectiles at them.
A mob of about 400 South Asians cheered and yelled abusive words in Tamil. Even the driver of the bus was attacked by the mob on Sunday.
Out of the 27 detained on Monday, 24 were Indian migrants to Singapore. They were produced before a court and face a quantum of punishment of seven years and/or canning.