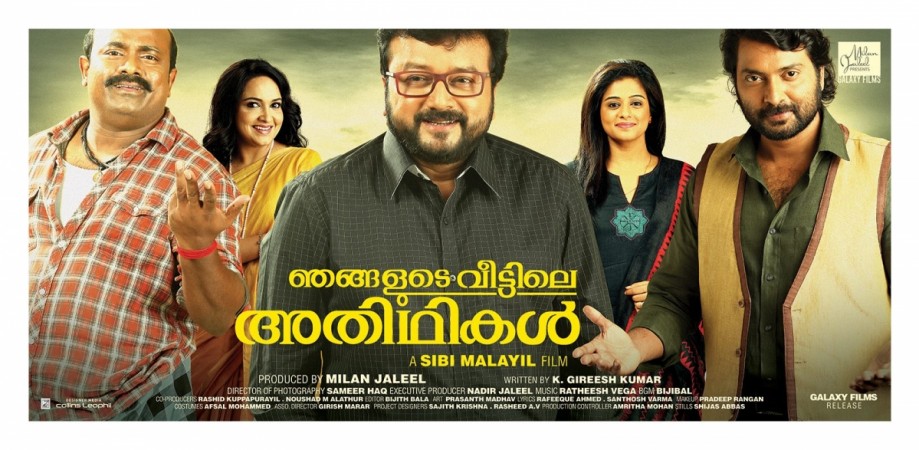 Malayalam movie "Njangalude Veettile Adhithikal'' directed by Sibi Malayil has opened in theatres to mixed reviews.
The film, which stars Jayaram and Priyamani in the lead is said to be a watchable movie. Apparently, the direction and dialogues are reviewed as the major drawbacks of the movie. The technical aspects and the actors' performance, especially Kalabhavan Shajon's role, have managed to impress the audience.
The film's story revolves around Advocate Manoj and Bhavana played by Jayaram and Priyamani, respectively. Their life takes a turn when their only daughter meets a tragic death. The demise of their daughter leads to a gap between them. Eventually, Bhavana will start doubting her husband of having an extramarital affair.The film then talks about some uninvited guests, who come into their life and how they influence the couple and their life.
Check here to see the reviews by various critics.
Lensmen Reviews.com: "Njangalude Veettile Adhithikal is too much of drama in a script that is confused about its nature. Veteran director Sibi Malayil has presented a suspense drama in a very amateur way through this cinema. Following the same concept of Russell Crowe starrer 'A Beautiful Mind', this movie from Sibi Malayil is a boring experience. What is really annoying about the craft is when you realize the fact that it is a Sibi Malayil movie."
"Lots and lots of places are there in the script where you feel the treatment was very amateurish. There is a kind of intellectual build up for the character Bhavana, but after that she is this very clichéd housewife whom we see in these pathetic daily soaps. Anyone with some interest about cinema can easily predict the "could have been a" suspense of the film which depends on certain characters. And having seen that Hollywood movie, 'Njangalude Veettile Adhithikal'' helped me in realizing the beauty of the classic. Thanks to the character played by Shajon which gave the movie some entertainment value."
Manorama Online English: "There is nothing great to satisfy our expectations generated by the hype and the promotional clips. However, it is not completely devoid of essential elements, which can hold your attention for a considerable period of time. The follies and foibles in family relations make a gripping presence, if not too deeply moving."
"Juggling the real and the unreal, it seems director Sibi Malayil hasn't yet come out of the trance of 'Manichitrathazhu'. The script by Girishkumar could have been more substantial and dialogues more natural. Songs by Ratheesh Vega are beautiful. The film is watchable solely for the performance of the actors who were denied the room to luxuriate in a deeper and more convincing storyline."
Cochin Talkies.com: "There wasn't even a single bad performance. But the thing is when there are a bunch of good actors you wont notice anything or else nothing will leave a mark. It is with no doubt that performed well but there wasn't even a single performance that has stand out in the crowd. Coming to the technical part, Excellent story, Bad direction and scripting. DOP was fresh and beautiful. Editing was good too."