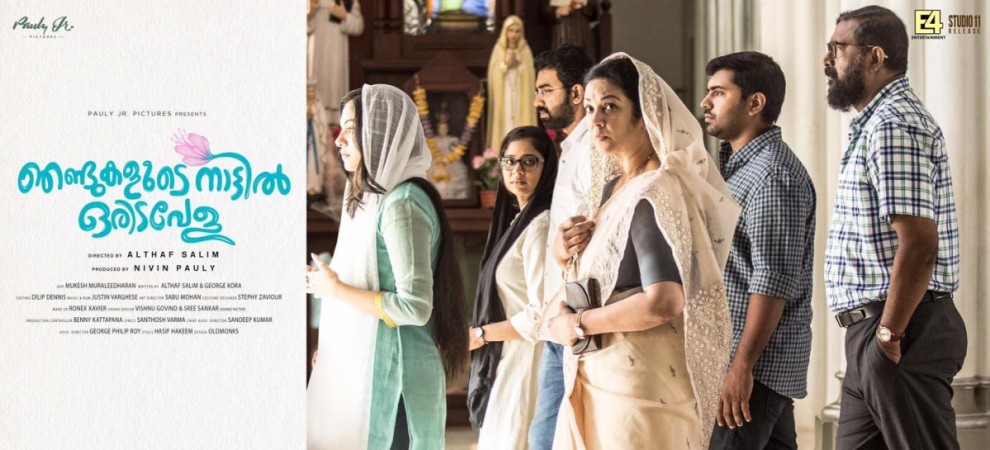 Njandukalude Naatil Oridavela, the latest Malayalam movie of young star Nivin Pauly, has emerged as one of the winners among the Onam releases this year. Despite facing a tough competition with three other big budget entertainers, the family entertainer, directed by debutant Althaf Salim, has been opened to fabulous response from the audience for the touching theme it deals with.
Also Meet all characters of Njandukalude Nattil Oridavela
Apart from audience and critics, many celebrities have also commented positive words about the movie, which is an eye opener to everyone on becoming a shoulder to cry on when your family members is in need or going through a crisis situation.
Check Njandukalude ... audience review
Filmmakers Basil Joseph, MIdhun Manuel Thomas, Vysakh, Ganesh Raj, Geetu Mohandas, actor Sunny Wayne, among many others took to their social media pages with their opinions on the movie, which has been bankrolled by Nivin under the banner Pauly Jr. Pictures after the blockbuster realistic entertainer Action Hero Biju.
Basil Joseph, who recently garnered the appreciation of the Kerala audience is all praise for the Nivin-starrer. "Njandukalude naattil oridavela is such an honest attempt in all aspects. Both the cast and crew have done their job splendidly well,making it a must watch movie this season. Big hugs and congrats to Althaf for making his entry into the director's club so grand [sic]," the filmmaker posted on his Facebook page.
He also praised all the characters who played main roles in the family entertainer. "Cheers to Nivin chettan for striking the gold yet again, Aiswarya for your beautiful debut, Lal sir, Ahana, Kichu,Siju,Sharaf, Srinda and rest of the cast for your perfect support. It was indeed a treat to watch the ever gorgeous Shanti Krishna again. Congrats to E4entertainment too for another success story [sic]," he added.
Meanwhile, director Midhun Manuel Thomas, who rose to fame with Aadu Oru Bheekarajeeviyanu, called Njandukalude Naatil Oridavela a "beautiful film which shows the power of a simple narrative and execution."
"A socially relevant issue is well portrayed in a heartwarming manner with precision and beauty..! Wonderful performances from the cast and it was a real pleasure to watch..Top notch direction from Althaf and other technical departments also excelled to create such a good family film.. Congrats to the whole team especially to producer Nivin Pauly for choosing such a subject [sic]," Alamara director shared on his social media page.
Ganesh Raj (Aanandam director)
Njandukalude Naattil Oridavela has gone straight to my list of all time favourite Malayalam films. Such is the honesty, sincerity and sheer talent on display. The film takes quite a serious subject and effectively makes it light-hearted and fun. But at no point is the graveness of the situation lost on us the audience. Thr screenplay is smart, the direction super confident, the music path breaking, the editing spot on and the cinematography so so soothing. Nivin Etta, as someone who has worked with you on 5 films, I must say you keep putting the screenplay first and everything else second and that is your greatest strength, you were sublime as usual. Althaf ikka, thank you for inspiring me. George Kora, if this is how you start, I can't wait to see what you have in store. I could go on and on about this film, but I can sum it up all by saying that I wish I was part of that family, I wish I could take setbacks in life like they did, I wish life was this positive. Go watch Njandu, it's a life affirming fairytale and in this day and age where negativity fills every corner of media space that's a welcome change. #Njandonam. PS: Loved the little nod to Godfather [sic]
Geetu Mohan Das watched the first-day first show of Njandukalude ... with the cast and crew of the film and said that Nivin will be looking in a completely different avatar from his comfort zone in his upcoming movie Moothon.
After a long time saw a FDFS of a film - Njandugalde naatil oru edevela with their cast and crew . A group of young talented guys brimming with excitement and anticipation. Their energy is infectious. I want to congratulate the team for their stupendous success at the box office. Now more than ever I can't wait for people to see Nivin in a completely opposite avatar from his comfort zone in MOOTHON....[sic].
Actor Sunny Wayne seems to be impressed with the comeback of yesteryear actress Shanthi Krishna, who is back to acting career after a long gap of almost 22 years.
Really enjoyed watching #njendukaludeNattilOridavela! And the best part is watching one of my favourite actress #Santhikrishna ma'am Performing .. What a comeback!!! Congrats to the whole team!! Specially Director althaf &The producer Nivin Pauly [sic].
Pulimurugan director Vysakh appreciated Althaf for his perfection in filmmaking despite it being his debut project.
-