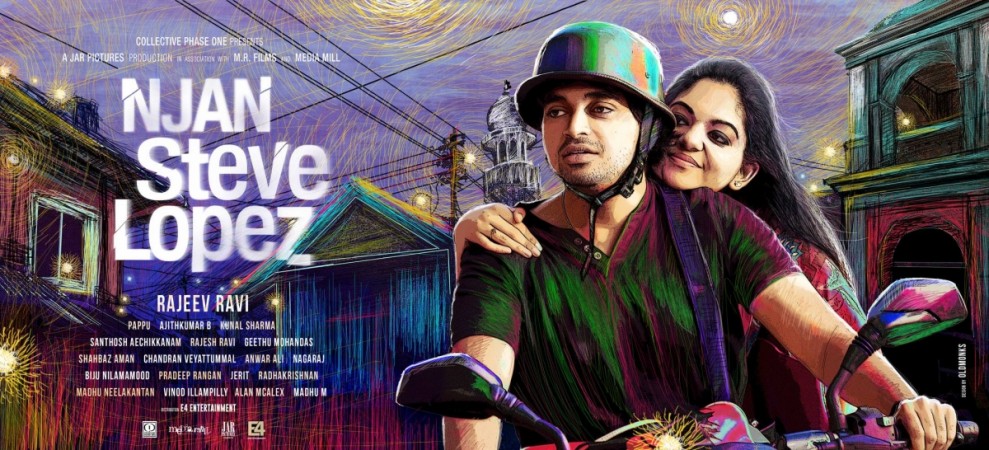 The first song of "Njan Steve Lopez" is released. The song which begins with the lines "Theruvukal Nee Njan Vegamaay" features the lead actors Farhaan Faasil and Ahaana Krishnakumar. The song introduces the characters Steve (Farhaan) and Anjali (Ahaana) who are falling in love. This romantic melody is composed by Shahbaz Aman and is rendered by Thaikkudam Bridge fame Siddharth Menon and Anwar Ali has written the lyrics of the song.
The breezy romantic number is written from the point of view of Steve, who is falling in love with Anjali. And the scenes of the song show the budding romance between them.
Shot in the locations of University College, Trivandrum and other localities of the city, the film is expected to be another romantic classic from Rajeev Ravi after "Annayum Rasoolum," which featured Fahadh Faasil and Andrea Jeremiah in the lead roles. The story of the film revolved around the relationship between a Muslim taxi driver and a Latin Christian girl.
Farhaan is the youngest son of filmmaker Fazil and brother of actor Fahadh Faasil. He is a former student of Anupam Kher's acting school. The young actor was waiting for his right time to foray into films, when Ravi approached him with this offer.
In the film, Steve is an adolescent from Trivandrum. The naive young man from an army family shares his romantic space with Anjali, who also happens to be the daughter of a police officer, living in the same colony.
The role of Anjali is played by Ahaana, daughter of actor Krishnakumar. She has earlier turned down Ravi's directorial venture, "Annayum Rasoolum" because of her studies, but the actress-director Geethu Mohandas convinced her not to miss this film. The character of Anjali is simple and there are no complications surrounding her.
The film also has theatre artists like Aliencier Lee, James and Anil Nedumangadu playing pivotal roles.
The film is scheduled to hit the theatres on 8 August. The story of "Njan Steve Lopez" is written by Santhosh Echikkanam, who had also scripted "Annayum Rasoolum". S. Radhakrishnan has composed the music and Pappu is the cinematographer.