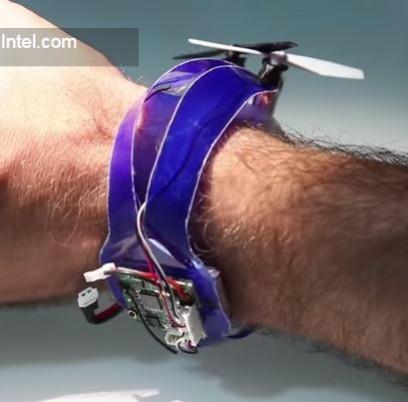 The tech world of wearable gadgets, known for its fast paced innovation has reached a new milestone. From GoPro to Google Glass, now a new wrist tied wearable can fly away to a told distance from your wrist, take photos and videos and then comes back to you.
The Nixie drone, a wristband based quadcopter worn on the wrist, acts similar to a boomerang, and would take the selfie taking technology to a new height. This new wearable device is also capable to synchronize all your images automatically to your smartphone or tablet device after coming back to the user.
Apart from its boomerang like habit, Nixie also features a function named 'Follow Me', which acts exactly by its name and follows the user's movement from a set flight distance and take photographs and videos.

The developers think that Nixie will be a great utility, especially to rock climbers, to help them in shooting images without compromising their safety. Beside this, the wearable drone can also be used to look into cracks and crevice in a rescue mission, snap action shots of a sporting event or can take selfies from a distance mentioned by the user.
Intel launched their "Make It Wearable" contest in January this year to encourage start-ups and hobbyists to innovate new wearables' using Intel's chipsets. Critics think it as a counter way to win the Mobile platform chipset industry, where Qualcomm is still spearheading.
Nixie has been developed by Chrsitoph Kohstall, a Stanford University physics researcher in the US and Jelena Jovanovic, ex- Google employee.
The new wearable weighs less than 50g and will be able to capture HD quality images with panorama modes for aeriel 360 degree arcs.
Intel gives $500,000 cash prize to the winners for making the prototype into a consumable product. The second and third prize has been achieved by a low cost prosthetic robotic hand and Proglove- a wearable production tool.
Apart from these devices, there are few more exciting innovations in the final list, including a bionic mattress that keeps mothers and premature babies connected through the artificial incubation process.
Watch "Meet Team Nixie" Video Below: