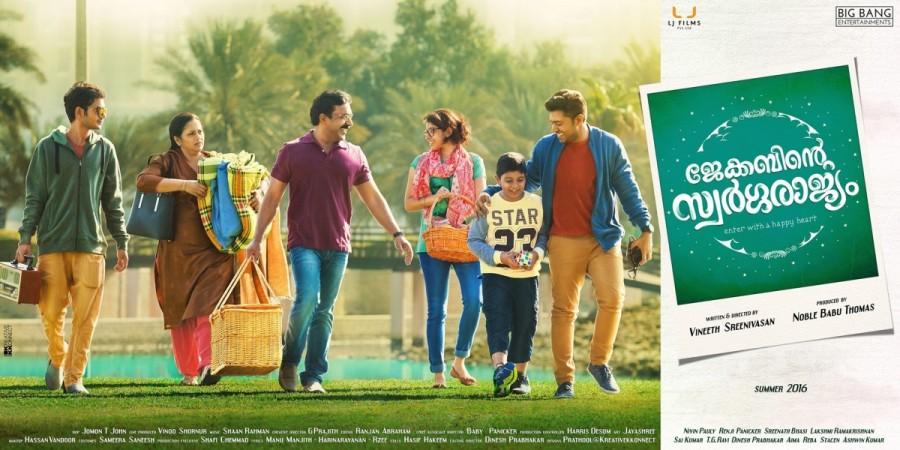 The much-awaited trailer of Vineeth Sreenivasan's upcoming Malayalam movie "Jacobinte Swargarajyam" (JSR), which released Wednesday, March 16, has opened to positive response from the audience.
Celebrities, including Rajith Menon, Sou Sadanandan, Abrid Shine, Dhyan Sreenivasan, Aju Varghese, Jude Anthony Joseph, Neeraj Madhav, Basil Joseph, Roopesh Peethambaran, Vimal Vijay, look impressive in the trailer, which looks promising.
The trailer features Renji Panicker (Jacob), Nivin Pauly (Jerry), Lekshmi Ramakrishnan (Sherly), Ashwin Kumar (Murali), Sai Kumar (Philip), Sreenath Bhasi (Abin), Aima Rosmy Sebastian (Ammu), Stacen (Chris) and Reba John (Chippy). Actor Aju's twin children Juana and Evan are also making their debut appearance in the movie, which narrates the story of an NRI family settled in Dubai. Renji Panicker plays the titular role of Jacob and is heard narrating the 1-minute-55-second trailer.
Reba John, who rose to fame after participating in reality show "Midukki" on Mazhavil Manorama, will be seen as Nivin's love interest in the movie. Mimicry artist Ashwin is also making his debut in a pivotal role, which was earlier said to be played by Tamil director Gautham Vasudev Menon. However, due to the unexpected rains in Chennai, the filmmaker couldn't join the "JSR" team paving way for a talented artiste to be part of the movie.
Shaan Rahman has composed the music for the film and the "Dubai" song, with the lyrics "Pulari Veyilinaai," released earlier in March had become the top track on iTunes Top 200 Regional Indian chart within hours of its release. Jomon T John has handled the cinematography of "JSR," which also has TG Ravi, Dinesh Prabhakar and many others in pivotal roles. The family entertainer, produced by Noble Babu Thomas under the banner of Big Bang Entertainments, is set to hit the theatres in April.
Watch the trailer here:
Rajith Menon
Lovely trailer....kidu feel,shots.....this feel gud film will be a blockbuster for this vishu.....god bless.....Nivin Aju Varghese Vineeth SreenivasanJomon T John Shaan Rahman Dinesh Prabhakar Neemo HDas Vivek Ranjit Sreenath Bhasi ‪#‎jsr‬
Sou Sadanandan
Vineeth Sreenivasan's next.. cant wait! Excited ☺☺
Abrid Shine

Nice ..loved it..
Aashiq Abu
All the very bests Vineeth Sreenivasan, Nivin Pauly Sreenath Bhasi, Jomon, and the entire team.
Basil Joseph
Another blockbuster on its way. Vineethetta ,I really had this little smile on my face throughout. Eagerly waiting to explore the heaven of Jacob

Jude Anthany Joseph
Guruvinte swarga rajyam
Neeraj Madhav
Vineeth Sreenivasan and Nivin Pauly is back together again
Dhyan Sreenivasan
Bro is back ❤ engalu pwoliku bro
Roopesh Peethambaran
Another hit on its way .. Yippee!!
Beautiful trailer, can't wait
All the best Vineeth Sreenivasan n team!!
P.S: Abhinav Sunder Nayak, u did it again!! Trailer Mastero

Vimal Vijay
Promising trailer ... Jsr . Waiting