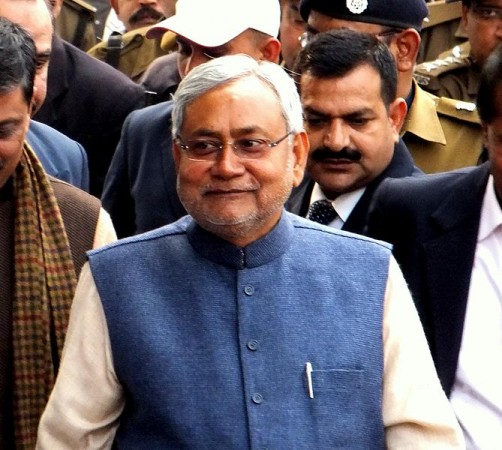 Bent on ensuring the Bharatiya Janata Party's defeat in the upcoming Rajya Sabha by-election, Janata Dal (United) leader Nitish Kumar reached out to Rashtriya Janata Dal chief Lalu Prasad Yadav, asking him to support the two JD(U) nominees.
Kumar had resigned as Bihar's chief minister last month, after his party was defeated in the general elections by the BJP.
"I have appealed to the RJD, the Congress and the CPI to support the two JD(U) candidates in the Rajya Sabha by-election to defeat the BJP. I have also talked to Lalu Prasad over this matter," NDTV quoted Kumar. "I spoke to Laluji last evening and urged him to support the JD(U) nominees in the Rajya Sabha elections."
In the by-election to the Upper House of the Parliament that will be held on 19 June, JD (U) has fielded two candidates, Pawan Varma and Gulam Rasool Balyawi. However, they are expected to face competition from independent candidates, according to news reports.
To ensure that the two nominees get through, Kumar is reported to have also looked beyond RJD's recent support to the Jitan Ram Manjhi government, which took over from Kumar after his resignation.
Kumar's move evoked strong reactions from BJP, with party leader Shahnawaz Hussain saying, "Nitish had opposed Lalu and came to power after a forming a separate party. Now that he is not getting support from the public, he is warming up to Lalu. He is trying to get Lalu's support," reported ANI.
BJP has reportedly also said that Kumar was "begging" before Yadav for victory in the Rajya Sabha by-polls.
Meanwhile, Yadav was reported saying that he will take the decision on extending support to JD(U) after consulting party legislators.
"Nitish Kumar had telephoned me on Friday to seek support for the two JD(U) candidates in the Rajya Sabha polls on June 19. I'll seek the opinion of RJD legislators and well-wishers over the issue and then take a decision," PTI quoted Prasad.
Yadav too did not spare harsh words against his once-rival Kumar. "JD(U) MLAs have set their own house on fire and Nitish Kumar is now looking for fire brigade. What else could be said about the situation," he said.
The Rajya Sabha comprises 243 seats, with 11 vacancies, and the ruling party must get 51 per cent votes of the MLAs to ensure its candidates' victory. According to the PTI report, JD(U) has 117 MLAs, BJP has 84, RJD has 21, Congress has 4, CPI has 1, while there are also five independent candidates.