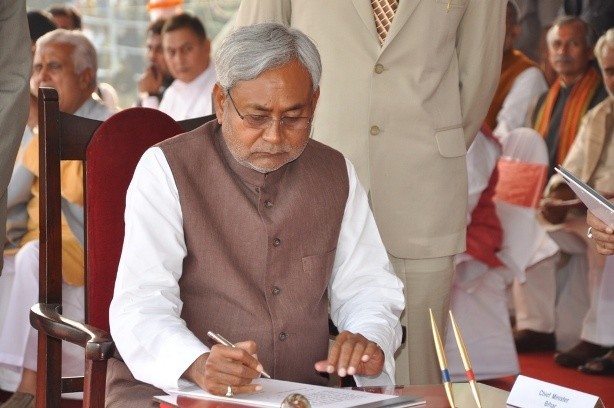 Bihar Chief Minister Nitish Kumar attacked NDA prime ministerial nominee Narendra Modi left, right and centre on Tuesday while addressing a rally in Rajgir.
Nitish accused the Bharatiya Janata Party (BJP) of following the ideology set by one of Adolf Hitler's closest associates - Joseph Goebbels - who had said 'If you tell a lie big enough and keep repeating it, people will eventually come to believe it'.
However, JDU leader Shivanand Tiwari caused an embarrassment for the Bihar CM during the rally by praising Modi.
"In a way I am Narendra Modi's admirer. Despite coming from a poor background Modi rose to such great heights. His ideology is a big challenge for us. He reached this position because of his hard work," Tewari said.
JDU split from a 17-year alliance with the BJP after Modi was being projected as NDA's prime ministerial candidate.
Modi criticised Nitish for taking such a step during his 'Hunkar Rally' on Monday saying, "If he could leave JP (Jaiprakash Narayan) he was bound to leave the BJP." He also accused the Bihar CM of being a hypocrite for acting differently towards Modi in front of and behind the camera.
Here are the highlights of Bihar CM Nitish Kumar's speech
Our coalition with BJP broke after many years but it was not our fault. BJP is responsible for it.
There is no comparison for people attending rallies. Even we had Adhikar Rally.
We are demanding special status (for Bihar) because it is our right and not a charity. If we do not get this right then it will certainly be the top agenda of JDU in campaign for upcoming Lok Sabha polls.
I strongly condemn the incidents that took place in Patna yesterday. Prior to the rally (Modi's) I had directed police officials to ensure that Gandhi Maidan is sanitised and all security arrangements be made.
Every detail will be investigated (Patna blasts), even if things are being said about me.
On Modi: One who dreams of sitting at top post of nation should have patience. He made a false claim that he and I were at a dinner together. A similar false claim is that there is a wave in the country in his support.
Modi boasted about giving ₹5 crore during the floods but we returned the money and he kept it. Is this the culture they talk about? According to our Indian culture one does not boast about the charity that one has given. What is the meaning of Hunkar? Arrogance, anger, there was just anger dripping from his (Modi) words.
They (BJP) said 'he left BJP, he has also left JP' but when did I ever leave JP (Jaiprakash Narayan)?
We do criticize our opponents as well but a sweeter tone must be used.
BJP was a big party and obviously leader for the PM candidacy had to be their's. They should have one aim for one objective at a time, first, they could have just defeated the Congress but they also wanted to sit on the hot seat.
Hitler's associate Goebbels said if you tell a lie many times, it appears the truth. This is what they (BJP) do.
Even I dream but not to become Prime Minister of this country. We did not sell tea at the stalls but we too belong to ordinary household.
Some people think of Biharis as just 'labourers'.
That kind of development is useless where there are factories, but the people remain poor
Be strong. I will not be cowed down. I will fight for my principles, even if kills me. I have faith in you
All these poll surveys are for entertainment. It is being done only to confuse you. They are a public relations exercise
Latest Reactions
Giriraj Singh, BJP leader: "you cant live in hypothetical world for a long time as @narendramodi is a reality today .many political opponents are accepting the fact," he tweeted.
"Hahaha many leaders in JDU will start saying.. main bhi biscuit bhechta tha,ande bechta tha, feri lagata tha, aur bheek mangta tha (I too sold biscuits, eggs and begged), he added.
Manoj Jha, Rashtriya Janata Dal leader: "JDU and it's cadre has been nurturing politics of communalism, Nitish Kumar was trying to play Advani sort of politics."
Kirti Azad, BJP leader: "The truth can be suppressed but cannot hide. Shivanand Tiwari has spoken the truth."
Sharad Yadav, JDU president: "We had announced in the beginning, speak with an open heart," he said while reacting on Shivanand Tiwari's praise for Modi.
Shahnawaz Hussein, BJP leader: "In the midst of bomb explosions the people of Bihar attended our rally. This is different between Hunkaar and Adhikaar rally"