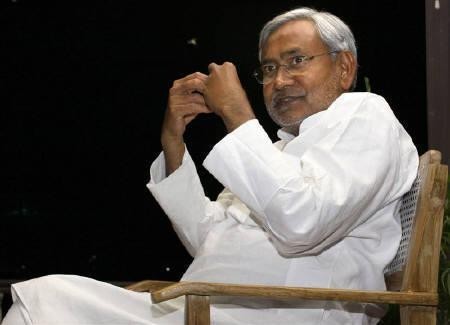 Bihar Chief Minister Nitish Kumar has apologised for Panchayati Raj Minister Bhim Singh's controversial remark that 'people join the Indian army and police to die'.
"I regret what my colleague said. I apologise and express regret over the remark. We salute the sacrifice made by martyrs," Nitish told ANI news
Earlier on Thursday, the Panchayati Raj Minister was asked about the absence of state leaders at the airport to receive the bodies of the soldiers who were killed during the 6 August ambush allegedly by Pakistan army.
Bhim Singh justified the absence saying, "Sena aur police me log marne hi jate hain (People join the army and the police force only to die)." The minister also put a counter question, "Did your father and mother go (to receive the soldiers' bodies)?"
BJP spokesperson Nirmala Sitharaman reacted saying, "Insensitive and shocking statement by a Bihar minister about the martyred soldiers. Not present at the cremation, but insults our brave men."
"Such a person does not deserve to be a minister. It shows his mentality," BJP leader Meenkashi Lekhi reacted on micro-blogging site Twitter.
"A minister giving such a comment is shocking. If you can't be sympathetic then at least don't insult. An extremely low-level and cheap sort of comment, the Chief Minister must immediately sack him," Rashtriya Janata Dal (RJD) leader Ram Kripal Yadav told ANI.
Even his own political party, Janata Dal (United) distanced itself from Bhim Singh. "Party condemns his comments, the Chief Minister has asked him to take back his statement & apologize," JD(U) leader KC Tyagi told the news agancy.
Bowing to pressure and criticisms from all quarters, the Panchayati Raj Minister apologised for the statement but said that it was destorted. "I apologize if my distorted comments have caused pain to the people minister. Chief Minister called me up and he expressed his displeasure at my comment. My comments have been distorted, I had not said that," he said.