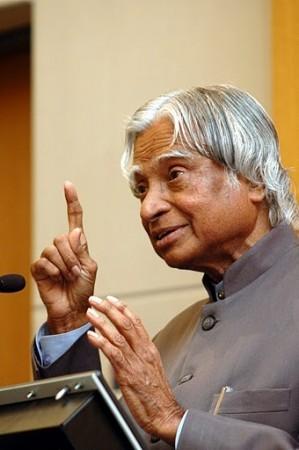 As the Presidential race heats up, Bihar Chief Minister Nitish Kumar has invited former President and scientist APJ Abdul Kalam for lunch, on Friday, raising speculations over the possibility of Kalam becoming his party's choice as the Presidential candidate.
Kalam, who is on a scheduled visit to Patna, was received by the Bihar CM at the airport. Kalam's name has been pushed by many political parties, including Trinamool Congress and Samajwadi Party for the top post. He has served at the President's office during the NDA rule between 2002 and 2007.
Since Kalam has not been associated with any political parties, many leaders think he can take an unbiased stand while performing his duties at Rashtrapati Bhavan.
Kalam was the first choice of BJP. With the President's poll round the corner, he has been gradually gaining support from all sides. TMC chief Mamata Banrejee and SP senior leader Mulayam Singh Yadav have both announced their support for Kalam's presidential candidature.
Mamata also went on to say that Kalam would win the Presidential poll and also reportedly congratulated him in advance. She has strongly opposed Congress' favourite, despite being a major ally of the UPA. But, Mulayam Singh has reportedly said that his final decision would be widely depending on other leaders' opinion.
Meanwhile, the NDA allies held a meeting to contemplate on the Presidential candidates and to chalk out their strategies related to the president poll. The party has been underplaying its choice for the Presidential poll and said that it would officially announce its candidate once the Congress makes its announcement.
The NDA members have also started reaching out to other political party members in a deal to garner support for their choice.
Senior BJP leader LK Advani met AIADMK supremo Jayalalithaa and discussed about the possibility of forming consensus over a candidate.
However, NDA is likely to face trouble from its own allies. So far, JD(U) has shown disinterest in Kalam's candidature. But speculations are rife that JD(U) may support Abdul Kalam. Nitish Kumar's lunch invitation to Kalam is seen as significant as they may discuss about the presidential poll.
Meanwhile, Congress party has been trying to build a consensus with its allies and like-minded political parties over the presidential poll. So far, it has managed to convince NCP leader Sharad Pawar and DMK chief Karunanidhi to support its choice.
At present, Finance Minister Pranab Mukherjee is seen as the favourite candidate of the Congress. The party is expected to announce Pranab's name as the Presidential candidate at the UPA meeting to be held today evening.