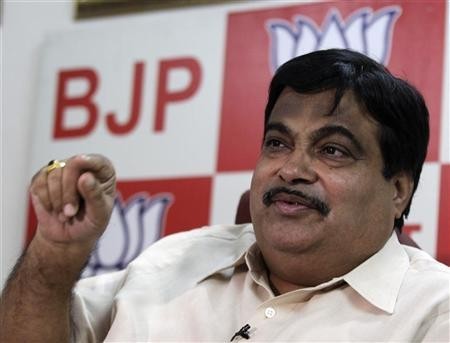 The Bhartiya Janata Party (BJP) members collectively backed Nitin Gadkari at a meeting on Friday night, putting an end to speculations that he would resign from the party president post over the allegations of dubious funding in his business firms.
Mr Gadkari has been hit by corruption charges, including the funding of his firm- Purti Power and Sugar Ltd (PPSL) and acquisition of farmers' land.
The party meeting was held at Gadkari's Teen Murti Lane residence, Delhi which was attended by many BJP leaders including L.K Advani, Sushma Swaraj and Arun Jaitely. The leaders unanimously expressed their support for the party president.
Gadkari had earlier cancelled his visit to Delhi following the announcement of probe into business dealings of his firm- Purti Power and Sugar Ltd (PPSL) by Corporate Affairs Ministry and Income Tax department.
It is speculated that BJP backed Gadkari after Senior Rashtriya Swayamsevak Sangh (RSS) leader Bhaiya Ji Joshi claimed that the media is targeting the party president.
"Some of the allegations have been leveled by sections of the media only and an authorized agency is yet to look into these allegations. It is unfortunate that the discourse on these allegations has turned political," CNN IBN quoted Joshi as saying.
Now that his position as the party president is safe, Gadkari will head to Himachal Pradesh on Saturday for pre-scheduled election campaigns.
It may be recalled that last week, India Against Corruption (IAC) leader Arvind Kejriwal accused Gadkari of illegally acquiring farmers' land and misusing irrigation water. He also claimed that the BJP president worked with the ruling Nationalist Congress Party (NCP) in Maharashtra so that his industries in the state prosper though the farmers suffer.