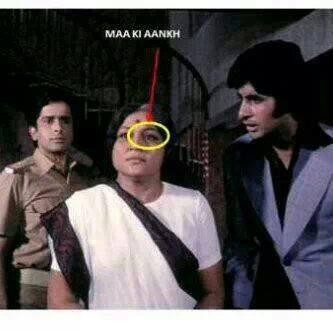 In a career spanning over five decades, actress Nirupa Roy worked in over 475 films. And in almost all the films she appeared, one cannot help but remember her as the eternally crying mother who was usually roped in to play the poverty-stricken ailing "Maa". Thanks to her roles, the most popular dialogue perhaps in the Bollywood's history, "Mere paas maa hai", can also be attributed to her.
But why are we talking about this suddenly?
Micro-blogging site Twitter has run amok over the past few days. It finds someone or the other to bombard with a spate of cheeky and funny jokes every single day. After Alok Nath, Arvind Kejriwal, Neil Nitin Mukesh have become victims of Twitter's infamous jokes and memes, now it seems like it is Roy's turn to come under the spotlight.
Most of the jokes centre around her ingenious capability to cry. Other jokes mock her on the kind of monotonous roles she had been playing over the years.
Following are the top 20 comments about Roy on Twitter:
1. One does not simply loose all her sons, husband and an important organ all at a same time unless she is Nirupa Roy
2. Breaking News! Science discovers that Adam was actually Alok Nath and Eve was Nirupa Roy!
3. Statistics : Tear-Glands of Nirupa Roy can hold sufficient Water that can fulfill Water Requirement of a Family of 4 for 19 Days
4. Marrying Nirupa Roy in a movie was an accepted method of committing suicide.
5. Once Nirupa Roy was given anesthesia. She was crying even when she was unconscious!
6. Nirupa Roy ki kaam wali bai kehti thi - "Madam thoda idhar aakaar rona to, pocha lagana hai"!!!
7. Nirupa Roy could have filled the glass full of tears in the #BB7 House!
8. In Parallel Universe, Nirupa Roy has three sons instead of Karan Arjun. They are called Neil Nitin Mukesh.
9. #Nirupa Roy dragged Johnson & Johnson to court over the "No more tears" campaign.
10. Nirupa Roy is brand Ambassador for all sewing machines in India.
11. Godrej specially created a white hair dye for Nirupa Roy.
12. If Nirupa Roy authored a book, it would be called 'Fifty Shades of White'
13. Nirupa Roy used Tide detergent on her Saree. Tide became white after that.
14. Nirupa Roy's husband divorced her. Every time he walked in through the door she said 'Beta tu aa gaya'
15. Nirupa Roy, holds the record for misplacing children the largest number of times in movies.
16. When Nirupa Roy cuts an Onion the Onion starts crying.
17. Nirupa Roy had telekinetic powers but she could only use them to move bells in temples which would eventually go on to hit her on the head.
18. Nirupa Roy's Pears Soap is actually made from her own frozen tears
19. Nirupa Roy has Guiness book of world record for becoming blind for maximum times & recovring eyes without medical treatment.
20. Nirupa Roy sold Lux soap coz it does not come with a No more tears promise :P