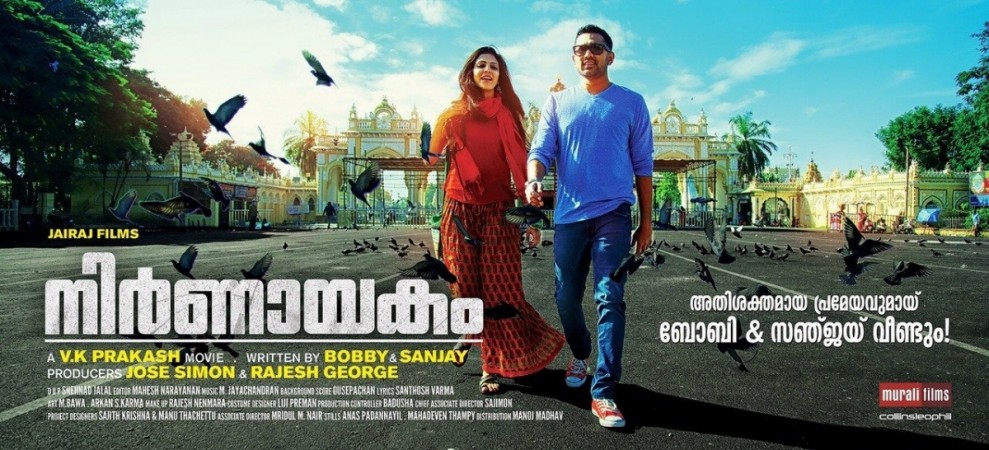 The buzz around upcoming movie "Nirnayakam", starring Asif Ali and Malavika Mohan in the lead, has already begun. The movie, which will be released on 5 June, is directed by VK Prakash.
The movie has managed to garner positive reviews even before its release as those who got a chance to watch the movie says that film is excellent. Director Rajesh Pillai, who watched the movie at the editor's desk, said the movie had such an impact on him that he stood up and applauded at the end.
"Watched the upcoming movie 'Nirnayakam' at the editor's studio. Had the rare experience of applauding a movie all by myself at the end - I cannot wait to watch this movie again in a packed theatre with a full audience. I am sure everyone who sees it will have the same feeling that I did - that this is a movie that speaks out about a lot of things I have always wanted to speak about as an ordinary citizen," Rajesh Pillai wrote on his Facebook Page.
The script of "Nirnayakam" is penned by Bobby-Sanjay team, who had written the script for Rajesh's blockbuster movie "Traffic". In the upcoming movie, Asif Ali plays the character of Ajay, a NDA student and the movie narrates the complex relationship which he shares with his father. The film is being touted as one of Asif's best.
Meanwhile, Rajesh Pillai shared that the most noticeable aspect of the movie is the performance of lead actors, including Asif Ali, Prem Prakash and Nedumudi Venu.
"The performances are mind blowing - Asif Ali has put in a career best performance while Prem Prakash was a real surprise package in a meaty role. Sri Nedumudi Venu and Sudheer Karamana have proved that they are in a completely different league when it comes to acting. Everyone else in this ensemble piece have put in credible performances,'' added the director.
The ace filmmaker has also mentioned that the aesthetic sense of VK Prakash is seen throughout the film, and added that the storyline and content are the main highlights of this movie. He also listed "Nirnayakan" as one of the must-watch movies of Malayalam cinema.
"V K Prakash's aesthetic shines through but at the end of the day, it is the storyline that is the real hero in this movie. That's why I want all of you to catch it in theatres when it releases on June 5 - you may love it, you may think it is average but I can guarantee that you will not feel as if you have wasted your time on a bad movie! And lastly, for all of you out there who know about my deep friendship with Sanjay (Bobby-Sanjay), I swear on my love of cinema that this is not a testimonial for a friend but what I really feel and believe! See it and decide for yourself - 'nirnayakam' hits the screens on June 5," concluded Rajesh Pillai.