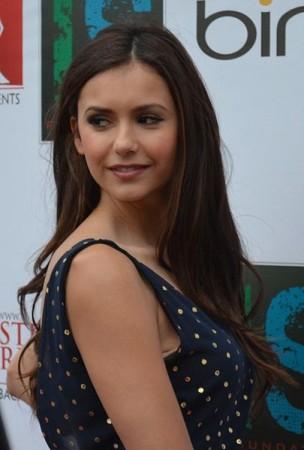 Nina Dobrev created waves by vacationing with the "Hunger Games" star Alexander Ludwig recently. The "Vampire Diaries" actress was seen rocking her curves in a black bikini where as Ludwig embraced his sculpted body by skipping the shirt.
The two were seen signing off the summer season with a holiday in Ibiza, Spain, basking in the sun on a luxurious yacht. Despite speculations of their romance, it is being said that they are just good friends.
It is reported that Ludwig was unwinding and celebrating the release of his film, "When the Game Stands Tall, while Dobrev was taking a break from "The Vampire Diaries" shoot.
Since breaking up with her "Vampire Diaries" co-star Ian Somerhalder, Dobrev has been linked to an array of men, including Orlando Bloom and Benjamin McKenzie. However, Dorbev played down the rumours by taking to Twitter and stating:
"Apparently I have SOOOO many boyfriends. Here's four more," she tweeted with four of her co-stars.
Dobrev has been friends with Somerhalder since calling it quits. The two were also seen in a playful mood when they recently accepted the People's choice awards for the best on-screen chemistry.
"I was trying to figure out, like what do you say in that kind of situation?" Nina told E! Online. "We were like, well, we're cool, we're friends and costars. He's a great person, I'm a great person. I mean, I think I'm pretty awesome. So it doesn't need to be awkward. and I feel like everyone expected it to be so awkward. We made fun of ourselves and just had fun."
Meanwhile, Somerhalder has been dating Nikki Reed for a few months now. He has been spotted spending some quality time with her and they are understood to have grown quite fond of each other. The two have also moved in together and Reed goes to shooting locations of the actor, as per reports by Hollywood Life.
The love between the former friends is reported to have found a strong footing. To commemorate their love, the two are said to be thinking of getting matching tattoos done.
"Nikki and Ian are talking about getting tattoos together. They want to get a matching quote instead of each other's names because Nikki has already done the name thing with two of her exes and neither one of them worked out. She wants to do something different with Ian," a source told the Website.