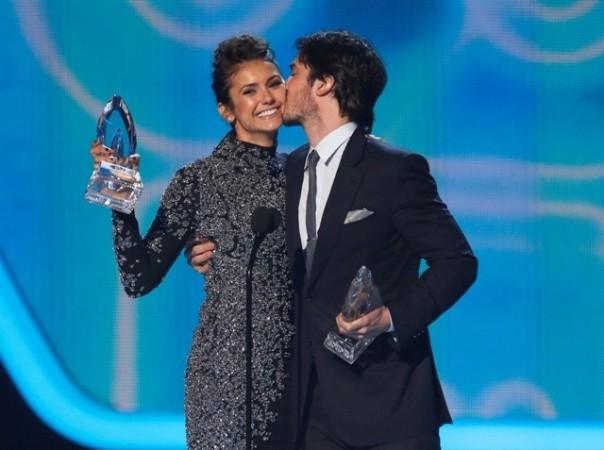 "The Vampire Diaries" fans have been going through a tough time after Nina Dobrev made it official that she has quit the show. And, in a recent interview, she disclosed the real reason that forced her to quit the show.
After the 26-year old confirmed that she would not be returning for the next season of the vampire thriller, there were rumours that the actor had quit because she could not see her ex-boyfriend, Ian Somerhalder, getting married to her former best friend, Nikki Reed.
Nina and Ian continued to play their on-screen role of Elena and Damon even after they broke up in 2013 and about a year later Ian started seeing Nikki of the "Twilight" fame. The couple got engaged in January 2015 and ultimately tied the knot on 26 April in Santa Monica, California.
Nina rubbished the "rumours" and said that she left the series not because of Ian and Nikki's whirlwind romance but because she felt that her character Elena had achieved everything she had come to do on the show and there was nothing new that could be done with her character.
"I've said this before that we didn't break up because anything bad happened or because there wasn't love or friendship," said Nina in an interview with E! News, revealing that there is no bad blood between her and her ex.
"I love him and the friendship is still strong and I think he's great and I care about him. And that didn't change. Yes, we're professional and that's fine. We were friends long before we dated and we still are now."
Meanwhile, she also mentioned that she couldn't be happier than this for the newly-weds and said that she is ignoring all the rumours that say otherwise.
"When I heard about the wedding, I thought it was beautiful," she said. "They look happy and I am happy, and so I don't see why there should be a problem with that. Of course, we're on a teen drama show, everyone's going to look for a drama, I just ignore it."
Watch Nina Dobrev's full interview with E! below.