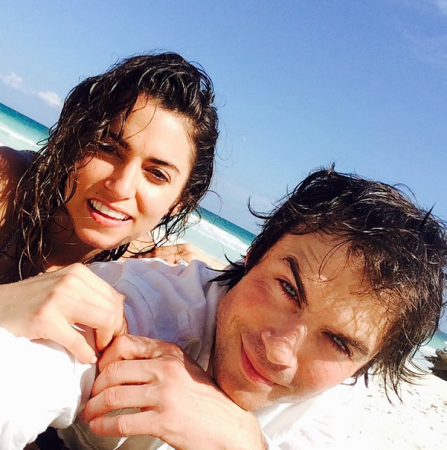 Rumours hinting at "The Vampire Diaries" actress Nina Dobrev's alleged intention to quit the CW series has once again gained traction, thanks to a new report that has once again rehashed past stories of a reported feud between Dobrev and her ex-Ian Somerhalder.
As fans of "The Vampire Diaries" actors are aware, Somerhalder and Dobrev dated for about three years before calling it quits in mid-2013. Although the two have remained friendly, rumours of an alleged fight between the two started swirling around shortly after Somerhalder started dating Nikki Reed almost seven months ago.
Several reports even claimed that the said feud escalated to such a level that Dobrev was planning to quit the vampire drama, which is currently on its sixth season, just to get away from Somerhalder and his new love.
Now, a Celeb Dirty Laundry claims that leaving the show is still a top priority for Dobrev.
"Nina Dobrev is still technically contracted to at least a few more seasons of the Vampire Diaries [including this one], but we already know she's planning on quitting soon to escape the stigma of Ian Somerhalder's association [and Nikki Reed]. But she's playing it safe and waiting until she lands a franchise first," the website claimed.
Neither Dobrev nor Somerhalder has addressed these rumours, but their social-networking activity suggests they're still in friendly terms.
In the mean time, Somerhalder and his fiancée Reed recently gushed about their near-perfect relationship at the 2015 Noble Awards on Friday, saying they do not fight at all.
"Nothing, really," Somerhalder said when asked what they argue about. "I know it sounds stupid."
However, Reed chimed in saying there was one thing they can't agree on. "He thinks his eyes are ocean blue and I think they're aqua," Reed, 26, said, according to Us Weekly. She also spoke about her engagement ring, saying: "Can't tell you anything about it other than I love it more than anything in the world!"