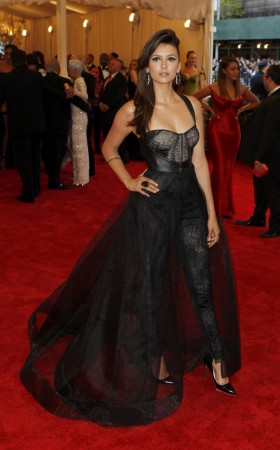 Nina Dobrev will be making a brief appearance in the upcoming season of "The Originals," and there are talks that she might quit "The Vampire Diaries" permanently for the spin-off series.
As reported earlier, speculations swirling around suggest that Dobrev is quitting the vampire drama as things have become uncomfortable on the sets ever since her long-time boyfriend Ian Somerhalder started dating Nikki Reed. Somerhalder and Reed were first spotted getting cosy at a Los Angeles Farmer's Market, and he recently admitted that he couldn't be happier about the relationship.
"Life is good," the 35-year-old actor recently confessed to E! News. "There's a lot of support and love from a lot of people."
He added, "I couldn't be happier if I tried."
However, Dobrev has no new relationship to show off, although she was linked to a number of actors since her split from Somerhalder, who is said to be rubbing his relationship in Dobrev's face.
Meanwhile, talking about Dobrev's crossover into the spin-off series, showrunner of both "The Vampire Diaries" and "The Originals" Julie Plec, told E!News that Dobrev will be essaying the role of Tatia, the original doppelganger.
" There was a character's name introduced a long time ago in season three in association with Klaus [Joseph Morgan] and Elijah [Daniel Gillies] and how they became vampires and a girl that they both loved a long time ago who was the original doppelgänger, Tatia. So Nina Dobrev will be visiting The Originals for a nice little storyline in our fifth episode which airs November 3."
Detailing Tatia's plotline, Plec added that the secrets, scandals and romance associated with the character will be played out in the episode featuring Dobrev.
"What we remember from The Vampire Diaries, for those who watch both shows, is that [Klaus and Elijah] both loved her, so it's a little bit of history repeating itself like with Stefan [Paul Wesley] and Damon [Ian Somerhalder]. And then Esther [Alice Evans], their mother, killed her so that she could make Klaus not a hybrid."
"The Vampire Diaries" season six premieres on 2 October, at 8 p.m. and "The Originals" season two premieres on 6 October, at 8 p.m. on the CW.