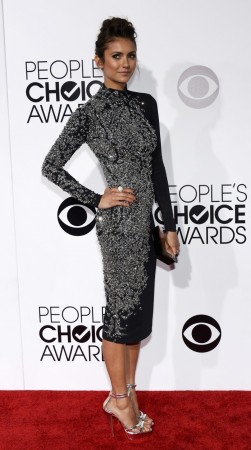 It seems Nina Dobrev is thinking of a new career move, as she is reportedly upset with the presence of Ian Somerhalder's girlfriend Nikki Reed on the sets of "The Vampire Diaries". The 25-year-old actress is said to be craving to move to the big screen.
It is reported that Dobrev will quit "The Vampire Diaries" after season 6 but it is not confirmed yet.
"Nina has been going to different premieres and been hanging out in Hollywood taking meetings because she wants to expand her career and move on from Vampire Diaries," a source told Hollywoodlife.
It may be mentioned that Nina Dobrev and Somerhalder dated in the past and were in a relationship for quite some time before calling it quits. Somerhalder started dating Reed recently and since then the couple has been all over the place.
Reed is a common friend of Somerhalder and Dobrev, and reports have it that "The Vampire Dairies" star is not happy about the two dating.
"She wants to make a splash in her career and do more movies," the source further said. "As for Nikki and Ian's relationship being the main reason, that would be only the reason to speed up things, but not the main thing, she just wants to grow as an actress."
Reed was recently seen in a comedy film, "Let's be Cops" directed by Luke Greenfield and it is about two friends dressed as cops for a party. Nina played a character named Josie in the film, which got a luke warm response at the box office.
Dobrev, on the other hand will be next seen in horror comedy films, "The Final Girls" where she plays Vicki. The film is about a famous scream queen in 1980s. She is also set to appear in "The Originals." "The Vampire Diaries" show runner Julie Pelc said that Dobrev will be seen playing Tatia in "The Originals" from 3 November.