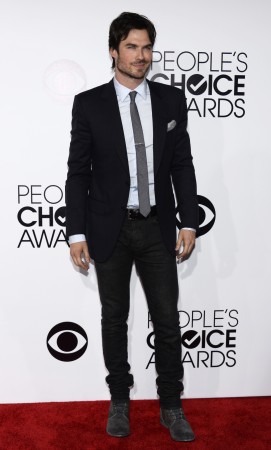 Nina Dobrev's exit from "The Vampire Diaries" will hopefully put an end to all the rumours surrounding her equation with ex-boyfriend Ian Somerhalder, as the two won't be working together anymore.
The relationship of Somerhalder and Dobrev, who dated for three years before calling it quits in 2013, is said to have made his fiancée Nikki Reed insecure, as the "The Vampire Diaries" actors had intimate romantic scenes.
But now that Dobrev has announced her departure from the show, Reed is said to be relieved.
"One person who isn't sad to see Nina leave is Nikki," a source told HollywoodLife. "She has definitely been persona non grata on the set and it made things uncomfortable with her and Ian. It's a relief that Nikki can now visit her fiance on set and not worry about any awkwardness with his ex and her friends."
However, Somerhalder isn't too glad to see his former lover go, as he realises that Dobrev is the heart and soul of the vampire drama, reports stated. He is believed to have asked her to stay on for one more season, but Dobrev wouldn't budge.
"Ian met with Nina and pretty much begged her not to leave," the HollywoodLife source said. "Although her leaving does make things easier for him personally, he knows how important Nina is to the show. The Vampire Diaries worked because of the chemistry and tension between him, Nina and Paul [Wesley]. The love triangle was what fans responded to. Without Nina, Ian is very concerned with the direction the show will take."
Fans of the show are also not too pleased with Dobrev's departure, and many are holding Somerhalder responsible for her decision to quit the show. They believe, if Someralder hadn't shoved his relationship with Reed in Dobrev's face, the 26-year-old actress wouldn't have made up the decision to leave the show.
Many are predicting Somerhalder's stint on the show to be short-lived now that Dobrev is quitting.
However, Dobrev noted in a statement on her Instagram page that she wanted to leave because she always envisioned Elena's story to be "a six season adventure."
"And within those six years I got the journey of a lifetime. I was a human, a vampire, a doppelganger, a crazy immortal, a doppelganger pretending to be human, a human pretending to be a doppelganger. I got kidnapped, killed, resurrected, tortured, cursed, body-snatched, was dead and undead, and there's still so much more to come before the season finale in May," Dobrev said.