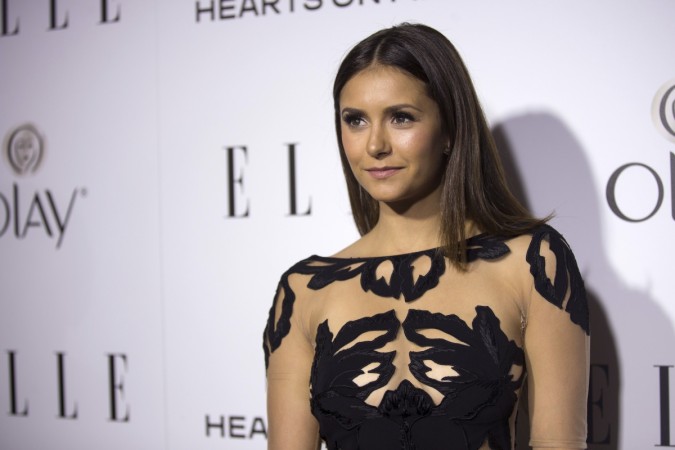 It seems like Nina Dobrev had a blast over Easter weekend, as her Twitter feed is filled with pictures of her having a gala time with her "The Vampire Diaries" cast.
Executive producer of the vampire drama, Julie Plec, and cast including Kat Graham, Michael Trevino, Matt Davis, and Michael Malarkey are all seen enjoying the "lake life" in the pictures posted by Dobrev of her fun Easter weekend.
Conspicuous by absence was Dobrev's ex and castmate Ian Somerhalder, who wasn't featured in any of the pictures. It is not immediately known how he spent his Easter weekend, but he tweeted on Sunday saying, "Most. Beautiful. Day. Ever."
Rumours are plenty on the state of Dobrev and Somerhalder's relationship. While some reports claim the former lovers, who were together for three years before calling it quits in 2013, are friendly, several others note that the two have been feuding ever since Somerhalder started dating "Twilight" alum Nikki Reed.
Recently, a Celeb Dirty Laundry claimed that Dobrev and Somerhalder are calling it quits on their friendship because his fiancée Reed was feeling insecure with their budding closeness.
"As Ian's wedding to Nikki Reed gets closer and closer, the relationship between Ian and Nina has gotten more difficult," the report noted. "It was fine for a while because 'The Vampire Diaries' writers went out of their way to keep Nina and Ian apart, but the story lines and plot points have brought their characters back together. And when two exes are kissing, making out, and faking romantic feelings for each other, the lines are bound to get blurred in real life."
The gossip website also added that Dobrev will not take part in Somerhalder's wedding to Reed, as it would be difficult to watch her former lover walk down the aisle.
"The Vampire Diaries" is currently being filmed in George, and shooting is scheduled to wrap up sometime later this month. The next episode of the season titled "I Could Never Love Like That" will air on 16 April.
Here are a few of Dobrev's tweets from her Easter weekend.
#TVDfamily #LakeLife pic.twitter.com/ObgtIdVofm

— Nina Dobrev (@ninadobrev) April 4, 2015
#TVDFamily @katgrahampics #LakeLife pic.twitter.com/MZdD76oAlB — Nina Dobrev (@ninadobrev) April 4, 2015
❤️ My inspiration. My mentor. My hero ... @JuliePlec pic.twitter.com/Lt1grrIy5U

— Nina Dobrev (@ninadobrev) April 4, 2015