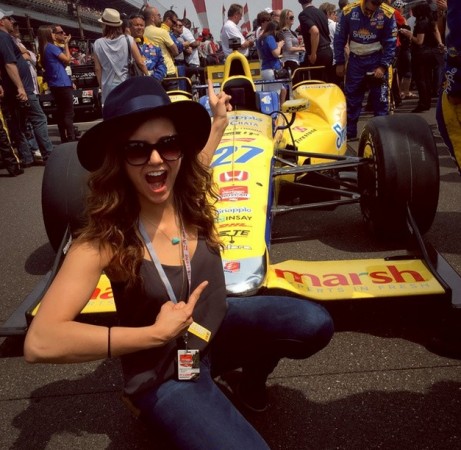 The relationship between "The Vampire Diaries" actress Nina Dobrev and "Whiplash" actor Austin Stowell seems to be heating up, as the couple was reportedly spotted kissing at an event in Hollywood on 10 June.
The actress seems to be over her failed relationship with her "The Vampire Diaries" co-star Ian Somerhalder, whom she dated for three years before splitting in mid 2013.
According to sources, Dobrev and Stowell arrived together for the event and they were spotted getting cosy throughout the night.
"She walked in with a few people including her new man," an eyewitness told HollywoodLife. "They stayed for the first comic and kissed three times while the performance happened!"
A People magazine source echoed similar sentiments, saying: "She was very happy to have a night out with her new guy. And she was very excited to see her friend Rob Riggle host the show."
This is not the first time the two have been spotted together. The couple initially sparked romance rumours after being seen together at the Indy 500 last month, and then again for a Kind Campaign fundraising initiative.
Dobrev was earlier linked to EDM producer Zedd, but nothing came of the relationship.
Dobrev recently quit CW's "The Vampire Diaries" after six seasons, and she quickly dismissed rumours that her strained relationship with co-star Somerhalder influenced her decision.
Speaking to E! News, Dobrev said: "I've said this before, that we didn't break up because anything bad happened or because there wasn't love or friendship. I love him and the friendship is still strong and I think he's great and I care about him. And that didn't change. Yes, we're professional and that's fine. We were friends long before we dated and we still are now."
On Somerhalder's marriage to Nikki Reed, Dobrev said she was happy to know her former beau had found someone.
"When I heard about the wedding, I thought it was beautiful," she said. "They look happy and I am happy and so I don't see why there should be a problem with that.The drama is in the media, it's not with us."