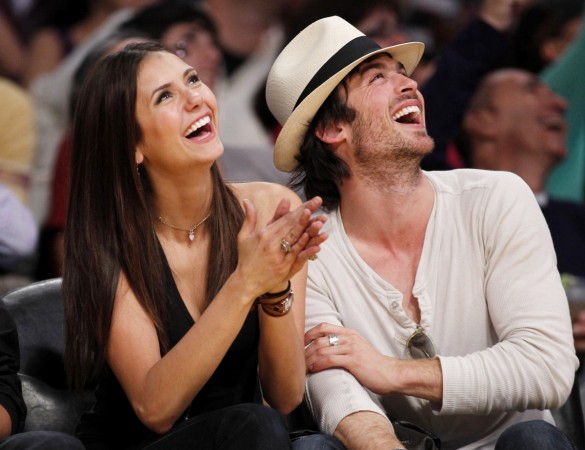 "The Vampire Diaries" actor Ian Somerhalder and his ex girlfriend Nina Dobrev seem to have moved on from their failed relationship. However, rumours of a possible reunion continue to plague them.
The duo dated for about three years after meeting on the set of the vampire drama, before calling it quits in mid 2013. A year later, Somerhalder started dating "Twilight" alum Nikki Reed and he got married to her in April 2015.
Dobrev too has found love. She is currently seeing "Whiplash" actor Austin Stowell, and if their public display of affection is any indication, things appear to be getting serious between the two.
Dobrev and Stowell were recently spotted at Eli Mizrahi's Founding Member launch dinner party, and a source present there told E!Online the two looked very much in love.
"You can tell how much they love each other just by the way they speak and their mannerisms toward one another. Austin is such a gentleman and treats Nina with such respect," the source said.
However, according to Celeb Dirty Laundry, their PDA could just be a ploy to fool people and end her name from being linked to Somerhalder.
"It would certainly be an easy way to seemingly end the constant association with Ian Somerhalder and Nikki Reed," the media outlet noted, adding that Somerhalder and Reed have also been trying to prevent his past from affecting his future.
This is said to be one of the reasons why Reed is pushing her husband to quit "The Vampire Diaries" and look for other acting opportunities.
Celeb Dirty Laundry also noted that "all this PDA and perfectly timed romance seems to align with Nina's push for another career-making role". Dobrev is reportedly looking forward to land a major role in "Empire" or "True Detective".
However, certain fans aren't too keen to let Somerhalder and Dobrev forget their past. Recently, Somerhalder's Twitter account was hacked and one of the messages posted by the hacker, assumed to be a Dobrev fan, was a love message to "The Vampire Diaries" alum.
The message, which was posted on Tuesday, 15 September, read: "i lOVE U @ninadobrev".