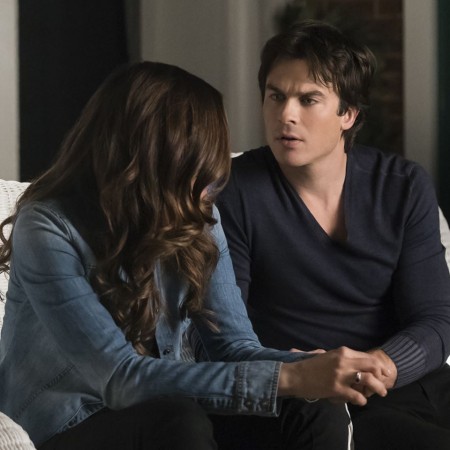 Ever since Nina Dobrev's exit from "The Vampire Diaries" in season 6 finale, there have been rumours about her possible return to the CW vampire drama.
While promoting season 7, the cast hinted that there was a possibility Dobrev, who played Elena Gilbert, could return, as the show is known for bringing back characters who were previously killed.
"I think that's what's fun about this series. You never know when characters are going to leave, you never know when they're going to come back," actress Candice Accola, who plays Caroline Forbes, teased to MTV in July.
"That's been a constant for six seasons, now. So the fact that, for such a big departure, that it is left open-ended, is really true to the show."
A short while later, CW president Mark Pedowitz also said Dobrev can return to the show anytime she wanted, and that the door was always open for her.
"We would have loved Nina to stay," Pedowitz said, according to TVLine. "She did a great job for the six years she was on the show and she's welcome anytime she wants to come back."
This had fans speculating that Dobrev's character, who was locked away in the Salvatores' family crypt after Kai cast a sleeping spell on her, would put in an appearance in season 7, which will air on 8 October.
However, Dobrev quashed these rumours, telling Entertainment Weekly that she has no desire to return.
"That chapter is closed, sadly – bittersweet," she said, but quickly added that she was excited for the next season. "I can't wait to see what the new season will look like. I'll be watching. I'm very excited for my friends."
The main focus on the next season of "The Vampire Diaries" are Stefan and Caroline's love story and the Salvatore brothers' relationship with their mother, Lily, who returned from the prison world in season 6.
A trailer for the upcoming season shows that Lily and her travelling companions, called the Heretics, have wreaked havoc in Mystic Falls, and this might complicate her relationship with her sons – Damon and Stefan.