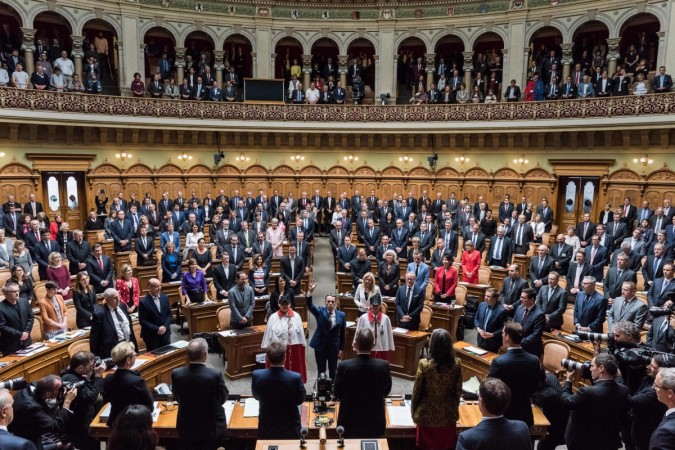 Niklaus-Samuel Gugger, popularly known as Nik Gugger, is the first Indian to be elected to the Swiss parliament. He is also one of the youngest members of the parliament and hopes to come to India someday to discuss economic ideas in collaboration with the India and Swiss governments.
While he may be a Swiss parliamentarian now, Gugger's story is not something one hears every day. Born in India, he was given up for adoption as his mother had abandoned him.
"My mother, Anasuiya, handed me over to Dr ED Pflugfelder -- now deceased -- just after my birth, requesting him to give me to a couple who could rear me in a better way and help me make a good career," the 48-year-old told IANS.
Who is Niklaus-Samuel Gugger?
Born in CSI Lombard Memorial Hospital in Udupi, Karnataka, on May 1, 1970, he was abandoned by his mother Anasuiya.
Within a week, Gugger was adopted by a Swiss couple Fritz and Elizabeth, who took him to Kerala.
The family lived in the state for about four years before moving to Switzerland.
Once he grew up, he drove trucks and worked as a gardener and a mechanic as his adoptive parents weren't well to do and he had to fund his higher education on his own. "They trained me in other things," he added.
After finishing his education, Gugger was involved with various kinds of social work.
In the year 2002, he was elected as the town councillor from Winterthur city.
At the end of 2017, he was elected to the Swiss parliament and he explained that he would be the only Indian there for at least the next 10 years.
He is also actively involved with Kerala's NTTF institute which helps students taking up technical courses in Switzerland and India.
Gugger has a daughter Anasuia, who he named after his biological mother
He also revealed that he tried to track down his mother but hasn't been able to find her.