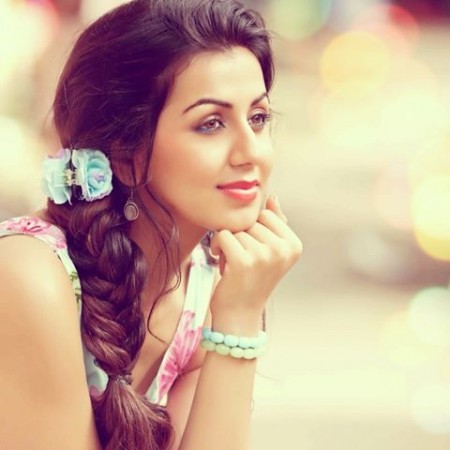 Nikki Galrani has proved herself as one of the most promising actresses in Malayalam cinema this year. The actress is now going a step ahead to make sure that she perfects her roles. The latest news is that the actress has done some tough action sequences in the upcoming movie "Ivan Maryadharaman" without the help of a dupe.
Apparently Nikki had to jump from a height of 50 feet from Hogenakkal Falls and this is for the first time that the actress is doing several stunt scenes without a body double.
"I had to do major stunts for the film without a body double. I jumped into Hogenakkal Falls from a height of 50-feet. I had to be in the water for three hours and there were ropes pulling me in the opposite direction. This was not at all an easy task. After this shot, I had several blood clots in my body. Although I know how to swim, it is different when you swim near a waterfall," Nikki told The Times of India
"Ivan Marydaraman", which also stars Dileep in the lead, gave the actress some memorable moments. The pair had to enact the climax train sequence of popular Bollywood movie "Dilwale Dulhaniya Le Jayenge". During the shooting of the scene, the actress escaped a big accident by sheer luck.
"I had to run with a suitcase near a moving train and Dileep had to pull me in. While shooting this scene, I tripped and lost my balance. I could have easily gone under the train. Luckily, Dileep chettan came to my rescue. Mafia Sasi was our stunt master. I did many other risky scenes with Dileep chettan. I am looking forward for the release of this film as I have put in my sweat, tears and blood into it," added the actress
The shooting of "Ivan Maryadharama" has wrapped up on 29 December. The movie is directed by debutant Suresh Payippad and is expected to hit theatres soon.