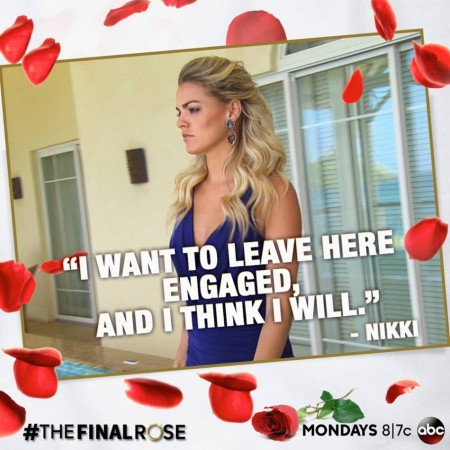 Are Nikki Ferrell and Juan Pablo Galavis planning to start a family? The recent buzz suggests that "The Bachelor" Season 18 winner Ferrell is trying to get pregnant with her boyfriend Galavis' baby.
Ferrell is reportedly having a baby fever and is all set to settle down, FashionnStyle quoted a report from Life and Style magazine.
"They're totally on the same page," said Elizabeth Carroll, a couples counselor, who met Galavis and Ferrell. "Both of them expressed they want more children, a big family, " reported the website.
The news of Ferrell's alleged pregnancy is coming just in the time when rumors of Galavis and Ferrell to be a mystery couple in the upcoming season of VH1's "Couples Therapy" has gone rampant. Though other couples of the show have been revealed, their inclusion is apparently being kept a mystery.
"It's true, they're doing it. The reason it wasn't put in the press release is due to Juan Pablo's deal with ABC. It's not up until August, so, contractually, it can't be mentioned until then," a source told E!
Meanwhile, friends of Ferrell have their doubts about Galavis.
"Nikki is expecting their relationship to progress like any healthy relationship would," said a source close to the magazine as per the website. "But if Nikki got pregnant, Juan Pablo wouldn't exactly be over the moon."
Galavis already has a four-year-old-daughter Camila with his ex-girlfriend.
For those who have seen "The Bachelor" season 18 would know that Galavis did offer a rose to Ferrell in the season's finale but never proposed to her. While giving her a rose he just told her that he "really likes her".
Since then, it is being speculated that Galavis may never settle down with Ferrell.
"Forget love. [Juan Pablo] wants to be rich and famous, a source further said suggesting that Galavis is in this relationship for a whole new reason.
It has also come to fore that Galavis' does not like Ferrell's controlling nature. Ferrell had once told Galavis on Twitter that he should not party but stick to soccer and dancing! and to this Galavis had said "I'm not gonna say what you should stick to @Nikki_Ferrell#YouBetterBehave."
Furthermore, Galavis wants Ferrell to turn into a model.
"He wants Nikki to work as a model or TV personality in Miami" a source further told US Weekly.