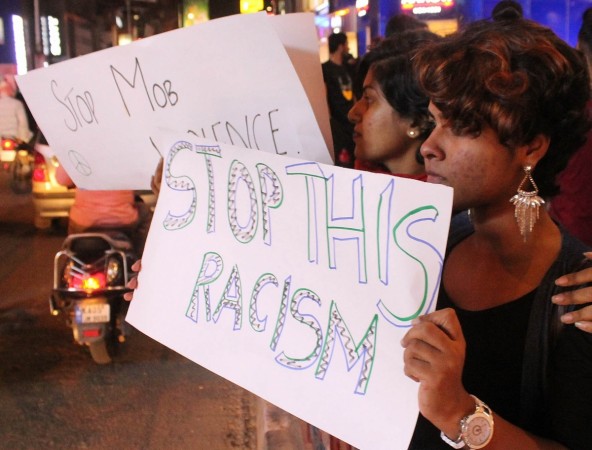 A Nigerian student was attacked allegedly by a resident in Hyderabad's Banjara Hills area after they got into a fight over parking, according to reports. Minister of External Affairs Sushma Swaraj has "urgently" sought a report on the alleged assault from the Telangana government.
The victim has been identified as 26-year-old Bamilola Kazim, the BBC reported.
The incident happened on Wednesday at Singada Basti near Banjara Hills. One Mohammed Ghafoor hit Kazim with an iron rod when an argument broke out between the two, according to the Times of India. Kazim, a third year student at Nizam College, suffered a deep cut and received eight stitches.
The fight broke out when Kazim parked his vehicle in Ghafoor's parking space and the latter asked him to remove it from there. "Ghazeem refused to heed and a scuffle broke out. Ghafoor took a rod and hit him on his head," the TOI quoted sub-inspector Krishna as saying.
Hyderabad's Nigerian Students Association's Gideon Omodowale told the BBC the incident was a "small issue" and "He [Mr Gafoor] has apologised and we have also forgiven him. It happens."
However, Emmanuel Omurunga, the chairman of the African Students Association in Telangana, told the Hindu: "The situation in India is no longer safe for us. Even the police are not willing to help us when we approach them."
This is the second incident of assault against nationals of African nations since last Friday. A 29-year-old Congolese man was beaten to death allegedly by three drunken men in South Delhi's Vasant Kunj area following a dispute over hiring an autorickshaw.
"Around the same time, three drunken men too approached the auto and insisted that they would hire the vehicle. That led to a heated argument between Olivier and the men," the Hindu quoted DCP (South) Ishawar Singh as saying in another report.
The Delhi Police have arrested two men in connection with the murder of the Congolese man, while they are on the lookout for a third one.
On reports of a Nigerian student injured in Hyderabad: EAM @SushmaSwaraj has urgently sought report from State Govt, is monitoring the case

— Vikas Swarup (@MEAIndia) May 27, 2016