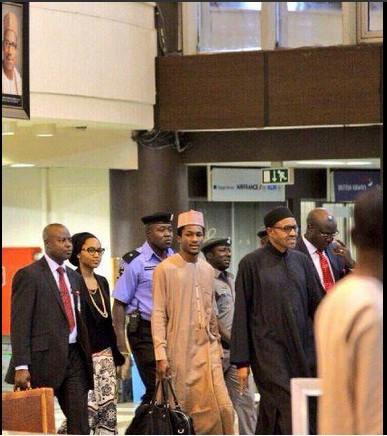 Most Nigerians did not seem to know that their new President Muhammadu Buhari even had a son till the 'handsome' Yusuf appeared in public for the first time on Thursday ahead of the president's official swearing-in.
Yusuf was seen dressed in traditional attire at Nnamdi Azikiwe International Airport in Abuja along with Muhammadu Buhari, and once his photos appeared online, the twitterati in Nigeria went into a frenzy, with Buhari's son receiving adulation from women and girls in the country.
Yusuf is said to be the son of Buhari's second wife, Aisha Halilu, reported Naij.com.
According to Nigerian media, many people were unaware that Buhari had a son, and some wondered why he was 'hiding' for so long.
"I never knew Buhari had a son. I was shocked when the picture appeared on twitter this morning and many people were talking about it. To me that is not fair. Why did Buhari choose to hide his son from the people he's coming to rule?" a local told Nigeria's Daily Post.
"I never knew Buhari had a son that is this handsome. Buhari should explain to us why he hid his son from us," another Nigerian said.
Some citizens were skeptical of Yusuf's sudden appearance, and chose to wait for an official announcement from Buhari himself.
"But who told us that is Buhari's son? The general didn't introduce him to us as his son. We saw Buhari's family picture and the so-called Yusuf is not there, so what is this argument all about. I think we should wait for Buhari to tell us who the guy is before we conclude. And if he's truly Buhari's son, then I am disappointed," a Nigerian told the newspaper.
However, many on twitterati have chosen not to wait for any such statement, and have welcomed Yusuf with a spate of posts on Twitter.
Here are some Twitter reactions to Buhari's mysterious son, who was trending on in Nigeria since Thursday.
Buhari's son is handsome pic.twitter.com/xW27Mz2nj5

— Omolola (@NigerianQueen34) May 28, 2015
New post: Muhammadu Buhari's HOT Son Yusuf Just Became The Most Eligible Bachelor In ... - http://t.co/QXQ7E83HmX pic.twitter.com/0mRBNuEceX — Teefah (@that1960chick) May 28, 2015
Buhari's son though pic.twitter.com/WJSkoQeAPj

— ❂ (@_SharonAde) May 28, 2015
Change is really here! Look at how cute Buhari's son is.. pic.twitter.com/kIhKxlDNJw — nemi ataboh (@nemi_ataboh) May 29, 2015
Buhari's Handsome Son, Yusuf is Trending on Twitter for 2nd Day in a Row! See What People are Saying: Ever sin... http://t.co/wtrD3Kmp4k

— BellaNaija.com (@bellanaija) May 29, 2015