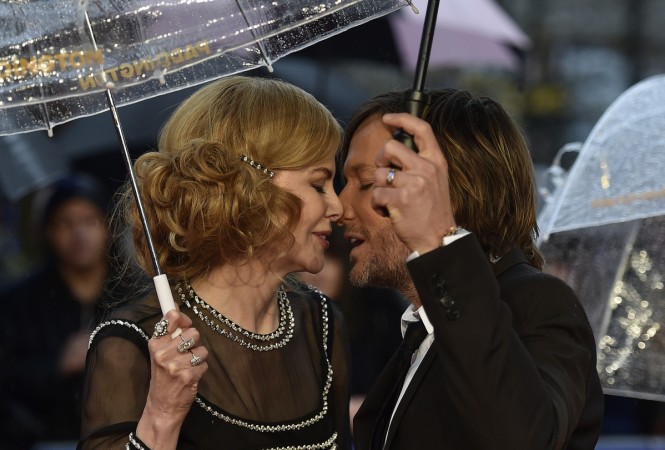 Even after eight years of marriage, Nicole Kidman and Keith Urban looked smitten with each other at the "Paddington" world premiere on Sunday, in London's Leicester Square.
Kidman, 47, did not mind putting on a public display of affection for the fans at the event. The couple shared a passionate kiss before the cameras showing just how much in love the two were even after so many years of marriage.
Ever the affectionate and loving husband, Urban held up an umbrella for Kidman when she was giving interviews to the reporters, Express reports.
Kidman had earlier said that her husband was "amazing" for the support he gave her after he father's sudden death.
The couple has two daughters: Sunday Rose and Faith Margaret.
The couple was joined on the occasion by Kidman's co-stars Sally Hawkins, Hugh Bonneville, Ben Whishaw, along with model Kate Moss and her daughter Lila.
In the movie, the "Moulin Rouge" actress plays the role of an evil taxidermist named Millicent with British actors Jim Broadbent and Julie Walters, who were also at the premiere.
Braving the London weather, the Oscar-winning actress was seen in an all-black attire. The Australian beauty looked gorgeous in the knee-length black vintage-style dress, which had sheer sleeves and a neckline with a white trim detail. She styled her hair in retro curls.
Apart from posing with her husband on the red carpet, Kidman also posed with her co-star, "Downtown Abbey" favourite Hugh Bonneville, Mirror reports.
"Paddington" has been criticized for the nasty behaviour of Kidman's character. In the film, Millicent is determined to kill the bear. But Bonneville, on "The Andrew Marr" show defended the character, saying: "I think every film narrative needs an adventure of this kind, needs its baddie to give the plot some spice. And it's been toned down I can tell you, but genuinely she's scary. You can see her motivation and where she comes from. I was in an audience with some five-year-old children and some 15-year-old children and neither of them were too put out by it."