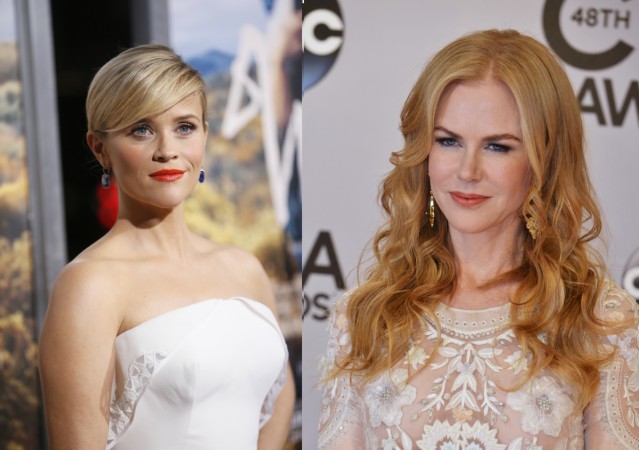 Two of Hollywood's most famous names, Nicole Kidman and Reese Witherspoon, are returning to the small screen as the duo have signed on to star in an upcoming television series, "Big Little Lies".
The limited series will be based on Australian writer Liane Moriarty's No.1 New York Times best-selling book, "Big Little Lies". The book was released in July 2014.
Moriarty has previously written best-sellers like "What Alice Forgot", "Three Wishes", "The Hypnotist's Love Story" and "The Husband's Secret".
According to the Hollywood Reporter, the show will be written by David E. Kelley of the "Boston legal" fame.
The two have appeared in other TV series before. Witherspoon has contributed in early TV movies and lent her voice on shows like "The Simpsons" and "King of the Hill". Meanwhile, Kidman started on Australian TV and recently was seen in HBO's "Hemingway & Gellhorn".
The production companies of the pair optioned the rights to the comedy earlier this year in hopes of turning it into a feature film. Kidman will be producing through her Blossoms Films banner, while Witherspoon through her pacific Standard Shingle. It has been learnt that Moriarty will also serve as a producer.
Witherspoon's Pacific Standard just produced "Wild" and David Fincher's famous "Gone Girl". It is scheduled to produce Mitch Larson's fantasy book series "Pennyroyal's Boot Camp", set up at Summit/Lionsgate. On the other hand, Kidman's Blossom Films is also set to produce "The Silent Wife", based on best-seller "Reconstructing Amelia", at HBO and also the biography of singer Dusty Springfield.
The book narrates the story of "three mothers of kindergartners whose apparently perfect lives unravel to the point of murder," Hit Fix reports. The murder takes place during a parents' night at the elementary school fundraiser.
It will soon be shopped to various networks and considering the cast, selling it would not be a problem.