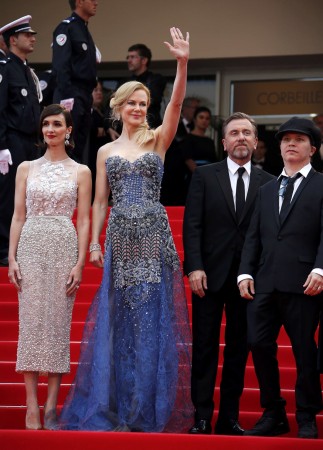 Nicole Kidman is rumored to be having marriage troubles with hubby Keith Urban. The "Grace of Monaco" star sparked marriage troubles as she arrived alone for the Cannes Film Festival to promote her film.
"It seems she and Keith really are on shaky ground. Keith didn't appear to want to free up one day in his schedule to be with her in Cannes when she needed his support the most, " a source revealed to Daily Star.
Reports further suggest that Kidman's busy professional schedule is proving a hurdle in their marriage and could lead to divorce.
Urban is also spending most of his time in the United States to shoot for American idol, leaving Kidman behind in Australia, reported Celebrity Laundry.
The gossip Website even quoted a report from 26 May print edition of National Enquirer which suggested that Kidman is planning for another baby in order to fix her marriage.
Reportedly, Keith has always wished for a son and Kidman thinks that the whole experience of having another baby would fill the alleged cracks in their marriage.
However, contrary to the reports of troubled marriage, Kidman hinted in her recent interview to Australia's Woman's Weekly that Keith Urban and family are her top priority.
"If it were the choice between my family and Keith, and my career, I wouldn't even bat an eyelid," the 46-year-old said. "The most important things to me are the love of our relationship and my children."
"At this stage of my life, and with time being so precious, the joy I get from us as a family outweighs any joy in any other area of my life, by far," she said about her family life.
Kidman and Urban got married in 2008. The couple has two daughters together. The first one is named Sunday Rose Kidman Urban and the second one is called Faith Margaret Kidman Urban.
Before stepping into a matrimonial bliss with Urban, Kidman was married to "Mission Impossible" star Tom Cruise. She had met Cruise in 1990 on the sets of "Days of Thunder." They got married on Christmas the same year. However, they called it splits after 11-years of marriage in 2001. With Cruise, Kidman adopted a daughter Isabella Jane and a son, Connor Anthony.
Meanwhile, Kidman's highly anticipated film "Grace of Monaco" has hit the theaters. Kidman confessed to the magazine that she had her fears while playing Grace Kelly on screen.
"Of course I get nervous. But I have played Virginia Woolf and come up against iconic literary people, too. Naomi makes her own choices and I make mine. We didn't plan on making princess movies at the same time," Kidman said on being compared to Naomi Watts role in "Diana," adding, "With Grace, there's an entire generation that knows she was an amazing woman and a princess but perhaps don't really know much more and I hope this film will fill in some of those blanks."