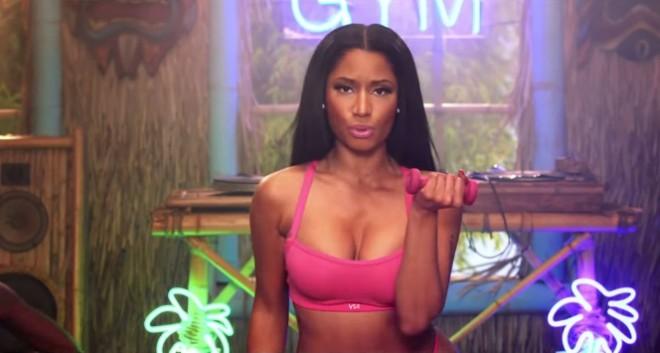 Most celebrities attend public events in sexy dresses to grab attention but many get embarrassment instead. Singer Nicki Minaj also suffered an embarrassing wardrobe malfunction at the 31st annual MTV Video Music Awards on Sunday and she is not shying away from it. She spoke about the goof up to the media and even took to social media to apologise to her fans.
The 31-year-old told reporters that she didn't have enough time to zip her dress while switching her outfits between her performance of "Anaconda" and "Bang Bang" at the MTVAs, causing wardrobe malfunction. She however managed to hold her dress together and avoid an embarrassing nip-slip though she ended up exposing lots of flesh.
"We ran out of time getting the dressed zipped up!" Hollywood Life quoted the singer as saying in press room after her performance. She also took to social media and apologized to her fans for the fashion faux pas.
The BANG BANG video is out now!!!! Love u girls. Sorry about my zipper. http://t.co/yOkiODaWP4

— Anaconda (@NICKIMINAJ) August 25, 2014
She also posted a picture on instagram with the caption: "God is good. As long as a nipple didn't come out to play, I'm fine. Love my team. CASPER, Rushka, Adam, Oscar, Joyce, Gee... Many more to name but they're all winners! No weak links. There's no greater feeling than having ppl who inspire u and who work passionately and relentlessly to get the job done. the myx is starting to make me feel real good right now thank u to Slim, Richelle, Katina and the entire REPUBLIC team."
God is good. As long as a nipple didn't come out to play, I'm fine. Love my team. CASPER, Rushka,... http://t.co/Z9i2Jfwx14 — Anaconda (@NICKIMINAJ) August 25, 2014
Well, there are hordes of celebrities who suffered wardrobe malfunction in the past. Here are 10 worst celebrity fashion faux pas:
1) Judy Finnigan: Her dress fell off while collecting award for Best Daytime Television Programme from Amanda Holden and Les Dennis in 2000.
2) Adrienne Bailon: She attended the Escape to Total Rewards function in New York in 2012 in a sheer black dress, exposing her private part.
3) Hayden Panettiere: The actress attended the 2011 Golden Globes awards in a sheer dress, exposing her twin assets with just adhesives to cover her nipple.
4) Tara Reid: She suffered a wardrobe malfunction at P Diddy's birthday party in 2004. Her black dress fell off and exposed her chest. She didn't notice it and gave the paparazzi a good time taking her pictures.
5) Nicki Minaj: The singer suffers a nipple slip while performing on Good Morning America in 2011.
6) Katie Price: She suffered a wardrobe malfunction at the launch of her book in Waterstones, London in 2008. She suffered a nip-slip at the event.
7) Lady GaGa: The "Paparazzi" singer, who is known for wearing bizarre dresses to award functions and public events, exposed too much skin at the 2011 CFDA Awards. She appeared in a sheer bodysuit with just G-string protecting her modesty.
8) Janet Jackson: The singer accidentally exposed her nipple during a performance with Justin Timberlake at the Super Bowl XXXVIII halftime show in 2004. It drew lots of criticism as it was broadcast live on television.
9) Geri Halliwell: The former Spice Girls added too much spice to her dress at the Children's Bafta Awards in 2008 after the bottom half of her dress fell apart. She ended up caring her butt.
10) Emma Watson: She suffered a wardrobe malfunction at a premiere event of her film, Harry Potter And The Half Blood Prince in London in 2009. Her free-flowing dress exposed her under garment.
(Image Credit: Screenshot from Nicki Minaj's Anaconda Official Video)