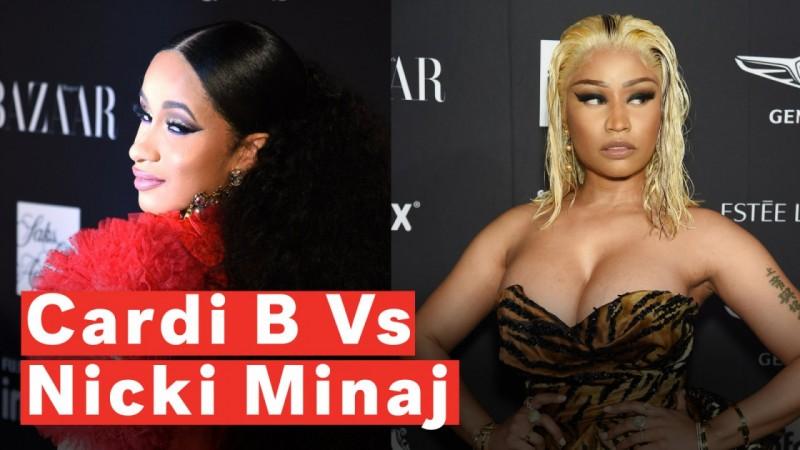 Nicki Minaj has finally broken her silence on the brawl she had with Cardi B at a New York Fashion Week party on Friday.
The duo got into a physical fight when Cardi confronted Minaj about the 'lies she was spreading' according to TMZ. The argument got out of hand, Cardi threw her shoe at Minaj before she got elbowed on her face by a security guard. Minaj was not hurt.
Cardi took to Instagram and said she lost her cool when Minaj commented about the new mother and her parenting abilities and went onto speak ill about her baby daughter. She said, "I addressed you once in person, I addressed you a second time in person, and every time you copped a plea!! But when you mention my child, you choose to like comments about me as a mother, make comments about my abilities to take care of my daughter is when all bets are f--kin off!! I've worked too hard and come too far to let anybody f--k with my success!!!!"
Minaj then took to her Queen Radio show on Beats 1 to share her side of the story, "I could not believe how humiliating it all felt...how we made ourselves look. I would never discuss anyone's child and it's so sad that for someone to pin that on me because I'm the bad guy and people would believe them."
She continued, "I would never talk about anyone's child or parenting. I don't care about anyone's parenting, and it is so crazy to me that people always need to make Onika [Nicki] the bad guy."
The rapper went on to seemingly speak directly to Cardi saying, " You're angry and you're sad. This is not funny and this is not about attacking. This is about getting this woman some help."