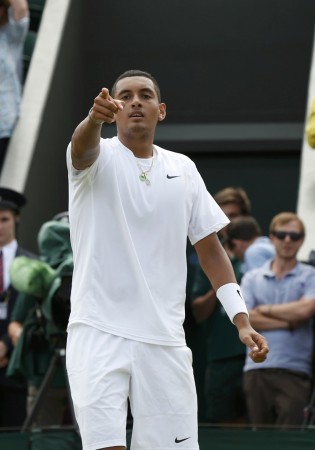 The Association of Tennis Professionals (ATP) have not let Australian tennis player Nick Kyrgios go scot-free for his comments on Stan Wawrinka during a Rogers Cup game. The tennis body have fined him $10,000 (£6,400), the maximum fine allowed by the ATP rule book for any verbal tirade or misconduct on-court.
The Australian also has to shell out an additional penalty for "unsportsmanlike conduct" made to a ball boy during the game.
Kyrgios took sledging in tennis to a whole new level during a second round game against Wawrinka in Montreal on Wednesday night, as he used words like "Banged your girlfriend" – an unsportsmanlike conduct in the eyes of the ATP.
The ATP statement said: "Following a review of video from the match the ATP has also issued an additional fine of US$2,500 [apart from the US$10,000 fine] for Unsportsmanlike Conduct related to a comment made to a ball person during the match.
"In addition, Kyrgios has been served with a "Notice of Investigation" which begins a process to determine if his actions also constitute a violation of the Player Major Offence provisions set forth under "Aggravated Behavior" or "Conduct Contrary to the Integrity of the Game."
The announcement further stated that the investigation "opens up the possibility of further penalties" that might include either "additional monetary fines" or "suspension from ATP events", or both.
French Open 2015 Champion Wawrinka gave a fitting reply to the 19-year-old, as the former wrote a flurry of tweets to talk about the "unacceptable and beyond belief" act of his younger counterpart.
The 30-year-old also mentioned that even he wouldn't "stoop so low" and hurl such an abuse to his "worst enemy".
The tweets were retweeted by Wawrinka's reported girlfriend Donna Vekic, who is also the 'girlfriend' in the question.
Earlier, Kyrgios released a statement on his official facebook page apologising for his actions.
Thanasi Kokkinakis, Kyrgios' Davis Cup partner, who was also mentioned in the the "Banged your girlfriend" comment by Kyrgios, has meanwhile not said anything on the incident yet.