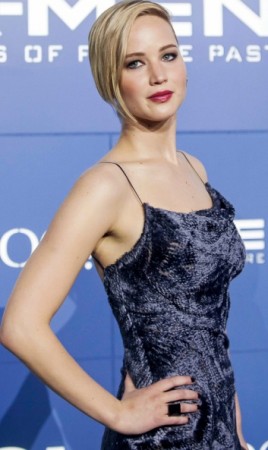 Oscar-winning actress Jennifer Lawrence, 24, has been reportedly dating the Coldplay frontman Chris Martin, 37, since June. The romance of the alleged couple began after Lawrence parted ways with long time beau Nicholas Hoult and Martin separated from his wife Gwyneth Paltrow.
The two apparently had a long flirty conversation on 1 July, when Lawrence appeared at a concert by the Coldplay. They got friendly at the event, which was held at Kensington Roof Gardens in London, according to a report by Hollywoodlife.
"They were talking the whole time and being really flirty," an eyewitness told Heatworld. "There was a whole party of people wanting Chris' attention, but his eyes were only on her. He seemed really into her."
Lawrence and Martin have been spending quality time with each other and things are said to be heating up between the two.
Meanwhile, Gwyneth Paltrow and Martin have settled for an amicable divorce. Paltrow announced, "conscious uncoupling" of the celebrity power couple on her lifestyle website "Goop". The duo has two kids together, named Apple and Moses.
"They've tried to keep things as stable and consistent as possible for their kids," a source told E! Online at the time of the couple's separation, adding, "They spend a lot of time together as a family and haven't changed things since they announced they were splitting up. Other than taking off their wedding bands, they seem closer than ever."
After separating from Paltrow , Martin had said that the separation has not made him loose faith in love.
"If you don't let love really in, then you can't really give it back," he said. "You've got to open yourself up to love and if you really do, of course, it will be painful at some times, but then it will be great at some point," he said in his interview to BBC Radio 1 after the news of divorce from wife Paltrow went public, as reported by NY Daily News.
On the other hand, Lawrence reportedly called it quits with Hoult due to work commitments and not getting time for each other. Despite the break-up, the two are said to be quite amicable with each other.
"They spent a lot of time apart because of work, and it was difficult on their relationship," the insider added.
Representatives of Martin and Lawrence are yet to speak out on the alleged relationship.