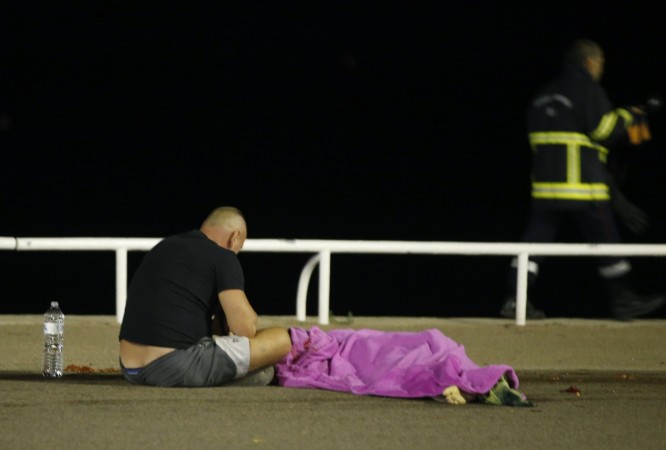 The French police on Sunday arrested two more people – a man and a woman – in connection with the Bastille Day attack in Nice that killed 84 people after a Tunisian truck driver rammed the vehicle into a crowd that had gathered at the Promenade des Anglais to celebrate France's national day. Details on the identity of the arrested were not provided.
French authorities are still trying to determine whether the driver, Mohamed Lahouaiej Bouhlel, was a religious fanatic or just an angry man while also being on the lookout for accomplices, if the attacker had any, Associated Press reported. The number of arrests made in connection with the attack has gone up to seven now.
Meanwhile, sources close to the investigation were quoted by the AFP as saying that Bouhlel had visited the promenade with his truck twice before carrying out the attack. The police have questioned several people since the attack, many of whom have said that Bouhlel wasn't a religious man. His friends and family told the police that he would smoke and drink and never went to the mosque.
French Prime Minister Manuel Valls said that Bouhlel had recently been radicalised.
"The investigation will establish the facts, but we know now that the killer was radicalised very quickly... The claim on Saturday morning by Islamic State and the fast radicalisation of the killer confirms the Islamist nature of this attack," Reuters quoted him as saying citing Sunday newspaper Le Journal du Dimanche.
The Islamic State group claimed responsibility for the attack through the Amaq news agency saying that Bouhlel "was one of the soldiers of Islamic State."
French authorities had removed police vans from the promenade hours before the mishap happened, triggering serious questions over the safety of thousands of people who had gathered to celebrate Bastille Day. Only 60 officers were on duty, the Telegraph reported.
Meanwhile, the French Health Ministry said that 85 people are still in hospital with 18 of them, including a child, critically injured, the AP said in a tweet.
Makeshift memorials have been set up at the Promenade des Anglais for people to pay tribute to those who died in the attack. Citizens laid flowers, candles, the French flag and stuffed animals at the memorial, the AP reported.