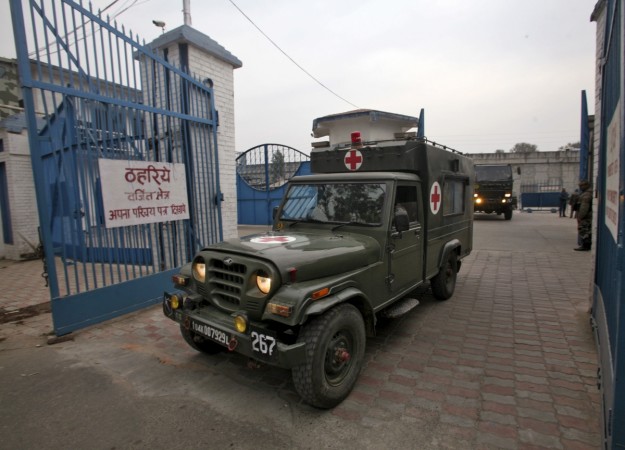 The National Investigation Agency (NIA) released Monday photos and description of four Pathankot Air Force base attackers, and sought information about them from the public. The move by the security agency comes days before the Pakistani Special Investigation Team (SIT) is to visit India for the Pathankot attack probe.
Confusion over the number of terrorists, however, persisted, as the National Security Guard maintains six terrorists had died during the Jan. 2 attack, which lasted more than 80 hours. Last week, Union Home Minister Rajnath Singh, quoting a forensic report, said in the Lok Sabha charred human remains found at the site belonged to a male, and the two people inside the airmen billet were terrorists. A second test on the remains by another forensic laboratory has been initiated after Forensic Science Laboratory (CFSL), Chandigarh, said the NIA-provided remains were of human origin.
The result from the second test will not be out before the Pakistani SIT's March 27 visit, the Press Trust of India quoted a source as saying.
Meanwhiile, the NIA has approached the Interpol for the issuance of an international notice seeking help in identification of the four unidentified bodies it has released information on. According to the description provided by the NIA, the four men were between 5'6" to 5'8" and were circumcised. One of the terrorists did not have toes on both feet.
Two of the four have been identified as just Nasir and Salim. Among other information provided by India to Pakistan is the batch numbers of the food packets used by the terrorists, sources told the PTI.
A Letter Rogatory has been sent to Pakistan by India seeking information about the deceased. India has also sought details about the phone numbers, belonging to telecom operators Mobilink, Warid and Telenor, used by the alleged Jaish-e-Mohammed terrorists.