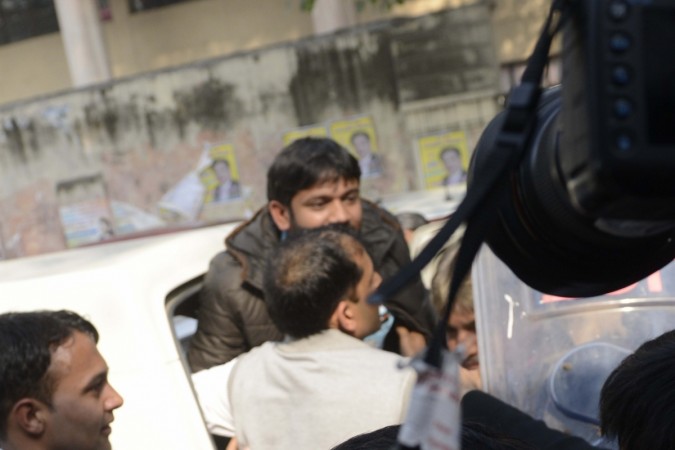 The National Human Rights Commission (NHRC) on Friday said that Jawaharlal Nehru Students' Union leader Kanhaiya Kumar was subjected to psychological pressure during the police interrogation.
"Kanhaiya Kumar didn't complain of any physical assault by police, he was subjected to psychological pressure during interrogation," ANI cited the NHRC report.
The NHRC had, on Wednesday, issued notices to the Union home secretary, Delhi chief secretary and the city police commissioner, seeking reports on alleged assault on Kumar by lawyers at the Patiala House Court.
In its report, NHRC said the attack on Kumar at court premises was "major security lapse and serious dereliction of duty on part of police," according to ANI. It added that the attack was "pre-planned."
Kumar was reportedly attacked by a group of lawyers at Patiala House Court while he was being taken for a judicial hearing.
The NHRC further suggested that "the safety and security of Kanhaiya Kumar and his family members is a serious cause of concern."
It also said that the Delhi police "dictated" the statement written by Kumar. "Statement issued by police as an appeal on behalf of Kanhaiya Kumar was not written by him voluntarily but dictated by police," the report said.
The NHRC had, on Feb. 17, also issued notices to the Centre, Delhi government, Delhi Police and JNU authorities seeking report on the police crackdown at the campus last week and Kumar's arrest on sedition charges.
Kanhaiya Kumar didn't complain of any physical assault by police,he was subjected to psychological pressure during interrogation:NHRC report

— ANI (@ANI_news) February 19, 2016
Kanhaiya Kumar didn't complain of any physical assault by police,he was subjected to psychological pressure during interrogation:NHRC report — ANI (@ANI_news) February 19, 2016
Going by the sequence of events, the safety and security of Kanhaiya Kumar and his family members is a serious cause of concern: NHRC report

— ANI (@ANI_news) February 19, 2016
What happened in Patiala House Court Complex on Feb 17 was major security lapse & serious dereliction of duty on part of police: NHRC report — ANI (@ANI_news) February 19, 2016