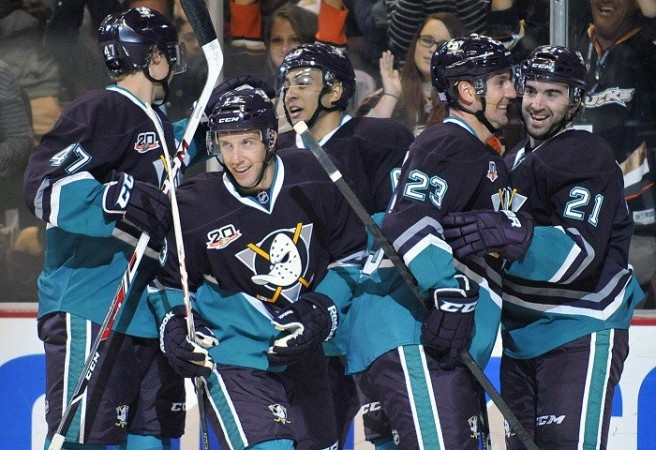 The Anaheim Ducks will look to continue one of their best starts in franchise history when they host the Calgary Flames, a side that has not won a regular season game in Anaheim for nearly ten years.
Anaheim have bounced back from a 6-1 thumping courtesy the Colorado Avalanche in their season opener, and are currently on a four-match winning streak, two of which have been at home.
"The more we can win at home the better it is," coach Bruce Boudreau said. "We've done OK in the first two games of this home stand. Let's see if the last three games can be the same way."
Calgary are no doing too badly either, and are unbeaten so far this season with a 3-0-2 record in five games. But the Flames haven't won a regular season game in Anaheim since way back in January, 2004.
"We learned a lot in the first five (games of the season), but the next five, all five road games against very good hockey clubs, that's going to say a lot," coach Bob Hartley told NHL.com.
"Those are five road games all in our conference so we will have to be at our best. Those points will be worth gold in April and I think that the guys are up to this. Everyone knows his role. Everyone really buys in."
Calgary blew two three-goal leads in Washington in their first game of the season, before losing to the Capitals in a shootout. Having said that, though, there has been a sense of something great being built at Calgary this season.
"I sensed it (we had something good) even before that first game in Washington," Hartley said. "I sensed it basically from the first day of (training) camp that it was totally a refreshed mindset. I don't know if it has anything to do with the work stoppage last year, all the uncertainty, but I felt it right from the start.
"In Washington, we got out flying, but we also had some real good exhibition games. Obviously in Washington, that was a pretty good eye-opener for us in two ways: No. 1, we could score goals, but No. 2, we have to play 60 minutes.
"We learned this very quickly, it only took us one game. Just to show the balance in this League, we have five games played and our five games are decided by five goals. We could be 5-0 but we could also be 0-5."
Team News: Forwards Matt Stajan (leg), David Jones (upper body) and Michael Cammalleri (hand) are ruled out for Calgary. Mikael Backlund is a doubt with a hand injury.
For Anaheim, defensemen Sheldon Souray (wrist) and Luca Sbisa (ankle), along with forwards Dustin Penner and Matt Beleskey are out.
Where to watch
The game is set for a 7.30 a.m. (IST, Thursday) start with no live coverage.