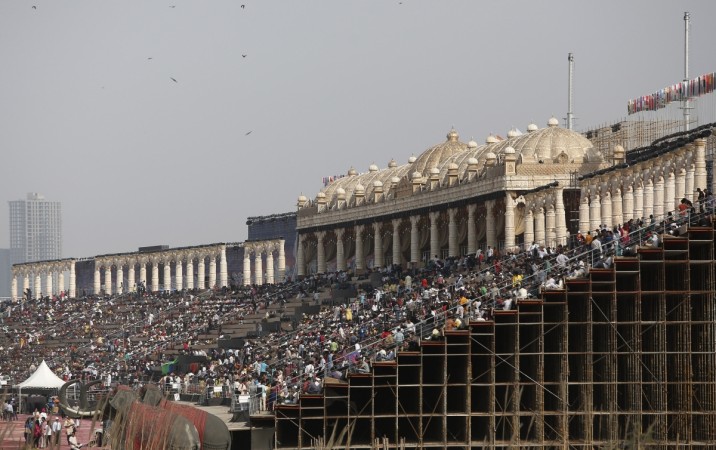 The National Green Tribunal (NGT) warned the Art of Living (AOL) Foundation that if it doesn't pay Rs 25 lakh by Friday, the Rs 2.25 crore grant that the Culture Ministry will be giving to the Vyakti Vikas Kendra Trust, run by Sri Sri Ravi Shankar, will be frozen. The non-governmental organisation was given three weeks to pay the entire fine amount of Rs five crore.
Earlier on Friday, the foundation said it would need four weeks to gather Rs 5 crore for the fine, which the NGT levied on it, as it was a charitable trust. The trust also said the money should be taken for "restoration," but not as a penalty. The NGT told the foundation that the money was a compensation for the environmental damage to the Yamuna banks, and not a penalty.
The NGT on Friday took cognisance of a report by NDTV, which said that the foundation had received a grant worth Rs 2.25 crore. The organisation had expenses worth Rs 100 crore in 2012 and Rs 90 crore in 2013, NDTV reported.
The green watchdog, which continued to hear the case, had earlier given the permission for the World Culture Festival after levying a fine of Rs five crore on the AOL Foundation, Rs five lakh on the DDA and Rs one lakh on the Delhi Pollution Control Committee (DPCC).
Ravi Shankar had said Thursday he would not pay the fine and would instead go to jail, as his foundation had done nothing wrong. The Hindustan Times quoted the green tribunal saying: "Such a statement is not expected from a person of high stature like that of AOL founder."
The tribunal also directed the Central Pollution Control Board, Delhi Pollution Control Committee, Ministry of Environment, Forests and Climate Change and the Delhi Development Authority to ensure that the Yamuna river and its floodplain are not polluted. The court also chastised the Ministry of Water Resources for not taking actions to protect the river from getting polluted.
The event begins Friday, March 11, at 5 p.m. IST and would go on till March 13. Prime Minister Narendra Modi is likely to be present at the inauguration of the event.
[1 lakh = 100,000 | 1 crore = 10 million | 100 crore = 1 billion]