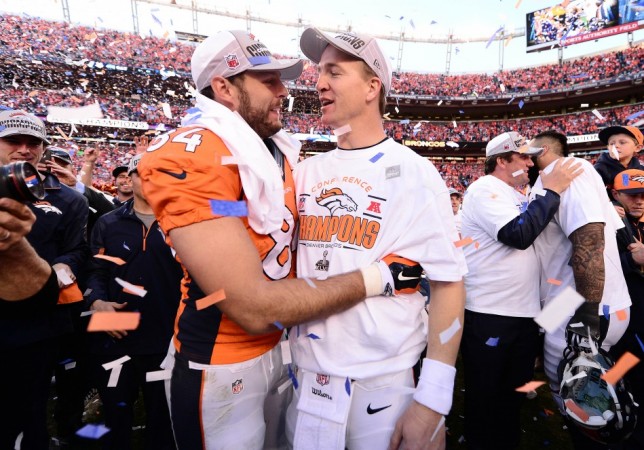 The final countdown for the NFL Super Bowl 2014 game between Seattle Seahawks and Denver Broncos has began with the much-awaited contest just a few days away.
The Seattle Seahawks entered the NFL Super Bowl XLVIII after the 23-17 win against the San Francisco 49ers on Sunday. Richard Sherman's deflection of a pass meant for Crabtree towards the end of the game was considered by many as the turning point of the thrilling win.
Denver Broncos set up a match with Seattle Seahawks for the ultimate prize by beating New England Patriots 26-16 on Sunday afternoon. Broncos quarterback Peyton Manning's performance has been terrific, and he will be cynosure of all eyes in the final too.
Seattle Seahawks' cornerback Richard Sherman was in news for his outburst at San Francisco 49ers' Michael Crabtree after Sunday's win, which ensured them a place in the Super Bowl XLVIII. He later apologized for "attacking an individual and taking the attention away from the fantastic game by my teammates."
Richard Sherman, who was flagged for making "choking" gesture, took a dig at Crabtree in an interview with Erin Andrews of Fox Sports after beating 49ers, claiming that he was the best cornerback.
"I'm the best corner in the game. When you try me with a sorry receiver like Crabtree, that is the result you are going to get. Don't you ever talk about me," Sherman had screamed.
When Andrews asked who was talking about him, Sherman shouted back: "Crabtree. Don't you open your mouth about the best, or I'm going to shut it for you really quick."
The much-awaited match between Seattle Seahawks and Denver Broncos is scheduled to take on each other at the NFL Super Bowl XLVIII. The game will be played at MetLife Stadium, East Rutherford, New Jersey at 6:25pm ET on February 2 (5:00 am IST, February 3).