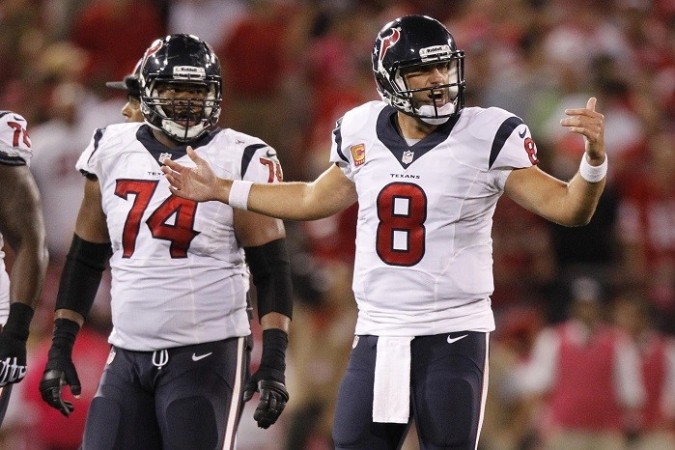 Houston Texans coach Gary Kubiak is set to stick with Matt Schaub, despite the quarterback's struggles which sees the Texans go on a three-match losing run.
The Texans began the NFL season on a sound not, winning their first two games, scoring 61 points. However, it's all been downhill from there for Houston, with the last three games being a bit of a nightmare, primarily due to the struggles of Schaub.
On Sunday, the Texans, the two-time defending AFC South champions, will have to find their mojo or risk going in their worst losing streak since Kubiak took over eight years ago.
"I think it's a huge game," Kubiak said, while admitting keeping Schaub as the starter was a tough decision. "It would be big either way, but, yeah, it's big because of what we've gone through these past three weeks.
"I see a group of guys that are very close, very committed to each other, very hurt ... the only way you fix things is you go back and play and do things better. I can't wait for that opportunity to get here."
Schaub has thrown interceptions in four straight games which have been taken back for a score, and NFL record, and Texans running back Arian Foster believes Kubiak's decision to stick with his starting quarterback shows just how much of a players' coach he is.
"I think it shows everything about who coach Kub (Gary Kubiak) is," Foster told the Houston Chronicle. "He's a player's coach. He has our back and, when a coach does that, you have to show up for him.
"I've felt that way (because) he's stuck up for me. I feel like I owe him a lot. I owe this organisation a lot because they gave me a chance. That's the kind of organisation we have here."
The Rams, like the Texans, are also 2-3, with their defence giving up a league-worst 169.3 rushing per game. Foster, who has been in prime form over the last couple of games, will look to take advantage of that weakness.
Where to watch
The game is scheduled for a 10.30 p.m. (IST) start with no live telecast scheduled.