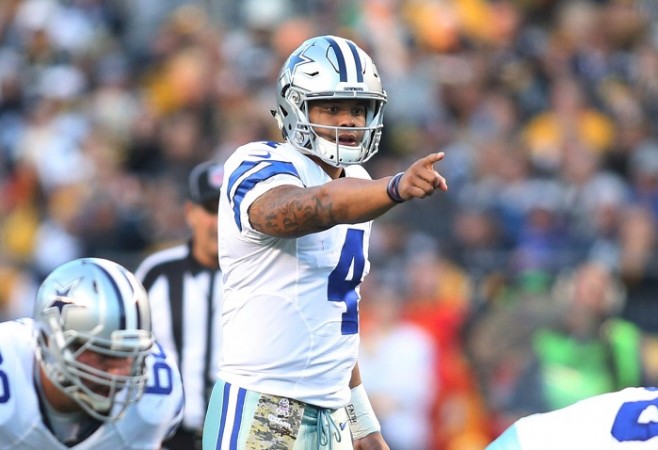 The Dallas Cowboys are going to stick with the "hot hand," which means Tony Romo will be playing backup next week when he makes his expected return from injury. With Dak Prescott having a stellar rookie season at quarterback for one of the biggest teams in the NFL, Romo is going to have to bide his time.
Romo has been inactive all season with a back injury, but is expected to return against the Baltimore Ravens next week, after returning to practice last week. However, Prescott is set to continue as the starting quarterback for the next game, with Romo acting as the backup.
"It's just going with the obvious," Cowboys chief executive and owner Jerry Jones said. "You are going with how the team is doing right now. It must not be obvious because I get asked about it every time I open my mouth. It's not hard. It's not hard at all. Tony would make the same decision. That's what you do.
"Dak has got a hot hand and we're going to go with it."
Prescott was outstanding in the Cowboys' 35-30 victory over the Pittsburgh Steelers on Sunday. He finished with 319 yards and two touchdowns, while completing 22 of his 32 passes to take Dallas to 8-1, the best record in the NFC.
While the decision has been made, there will be worries over how Romo, the Cowboys starting quarterback since 2006, will take it. Jones, though, insisted there will be no problems.
"There's no fragileness because Tony is on board to ride this thing out as well," Jones added. "Absolutely, absolutely. Let me be real clear on that.
"There is no equivocation. He is totally committed to doing the very best thing to win the game."
Jones also knows that if the Dallas Cowboys are in a precarious position, where they need to skills of a veteran quarterback, who knows just what needs to be done in the pressure situations, having someone of the skills of Romo is a great option to have.
"You see what a veteran quarterback can do," Jones said. "He gets in there and knows how to dissect and has all of that experience. But you also see what Dak can do."