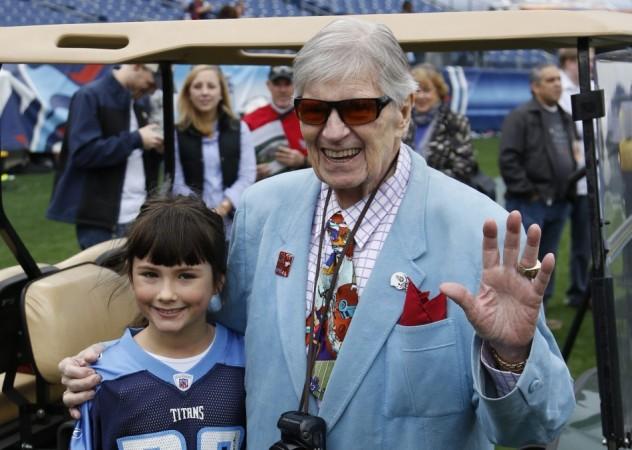 Bud Adams, founder member of the American Football League and the owner of Houston Oilers and their successors Tennessee Titans, died at his home in Houston on Monday. He was 90.
Adams, the son of a major oil executive, went on to build his own energy empire. He used his fortune to create Houston Oilers, a part of the AFL. Later, the team merged with the NFL. He then moved his team to Memphis and then to Nashville, where the team was called Tennessee Titans.
"When my father, Lamar, set out to start a new league to rival the NFL in 1959, the first person he went to visit was Bud Adams," said Clark Hunt, chief executive officer of the Kansas City Chiefs. "Lamar, Bud and the other visionary owners of the American Football League believed that fans across the country would embrace pro football if given the chance, and they were right."
Adams also owned Houston Mavericks, a part of the American Basketball Association in the 1960s and the Nashville Cats of the Arena League from 2001-2007. A private man, he was never interested in PR gestures. He was also the owner of Ada Oil in Houston.
"Bud Adams played a pivotal role in the growth of pro football as a pioneer and innovator. NFL Commissioner Roger Goodwell said. "As a founding owner of the American Football League that began play in 1960, Bud saw the potential of pro football and brought the game to new cities and new heights of popularity, first in Houston and then in Nashville.He was an brilliant entrepreneur with a terrific sense of humour that helped lighten many a tense meeting."
"His commitment to the best interests of the game and league was unwavering, and his personal along with the team's impact in community relations and philanthropy set a standard for the NFL. Bud was truly a gift to the NFL.
A prominent part of the Football League in America, Bud Adams will always be a part of the history of professional football. After buying the Houston franchise for the league's inaugural fee of $25,000, he built a strong team which made him one of the most successful owners in the league. In August this year, Forbes magazine estimated the Titans' value at $1.055 billion.