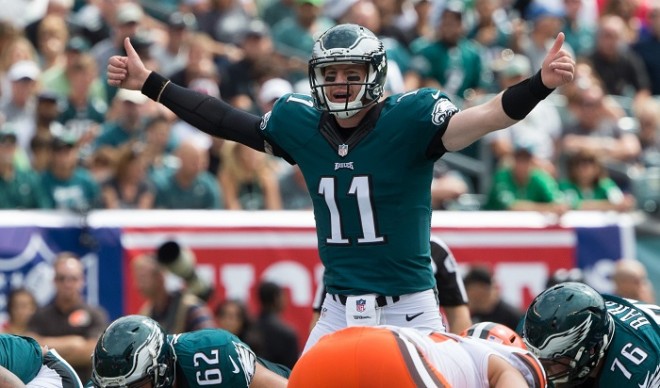 The Philadelphia Eagles and the Chicago Bears will round out Week 2 of the NFL in the hope of ending up on the winning side at Soldier Field. While the Eagles were mighty impressive in their opening game, with rookie quarterback Carson Wentz catching the eye, the Bears suffered an opening week defeat, which means the majority of the pressure will be on the home team.
With Chicago playing this Monday night, primetime game at home, it adds that little bit more pressure to perform, and Jay Cutler, their starting quarterback, no doubt, will be the one everyone looks to for inspiration and an opening victory of the season.
Cutler was decent in the first game against Houston, throwing for 216 yards with a touchdown and interception, but the problem for Chicago came in the fact that their lead man was sacked five times, with the pass rush of the Texans completely dominant.
Not going down early and then having to rally big will be the key for Chicago, if they are to top the Philadelphia Eagles.
"Those struggles occurred a little bit more in the second half when we had to play backyard football where we had to throw it to catch up," Bears coach John Fox said after the 23-14 loss to Houston. "They're a talented front and when you get too one-dimensional like that, it becomes problematic for everyone."
The Eagles were outstanding in their first game, a 29-10 win over the Cleveland Browns, with Wentz justifying the hype by passing for 278 yards, which included two touchdowns, on his debut. If Wentz stays on the same path, then Philadelphia have a superstar on their hands, but the quarterback will know true greatness comes from consistency. As a result, another similar performance will be necessary against Chicago.
Knowing the propensity of rookies to buckle under the pressure, especially when all the attention's on him, the Chicago Bears defence will, no doubt, target Wentz and how the quarterback copes with that could very well define how this season will go for the Eagles.
"He's young, so we have to hit him a little bit and confuse him, but he's a good player," Bears safety Harold Jones-Quartey said. "Coaches are coaching us to give him different looks, show him different things and we're going to hit him a little bit."
Where to Watch Live

The NFL game is set to begin at 8.30 p.m. ET (6 a.m. IST, 1.30 a.m. BST next day). Live Streaming and TV information is below.

India: TV: Sony ESPN and Sony ESPN HD. Live Streaming: Sonyliv.

USA: TV: ESPN and ESPN Deportes. Live Streaming: Watch ESPN.

UK: TV: Sky Sports 1. Live Streaming: Sky Go.

Canada: TV: TSN 1, TSN 3, TSN 4, TSN 5. Live Streaming: TSN TV.

Australia: TV: ESPN. Live Streaming: Foxtel.