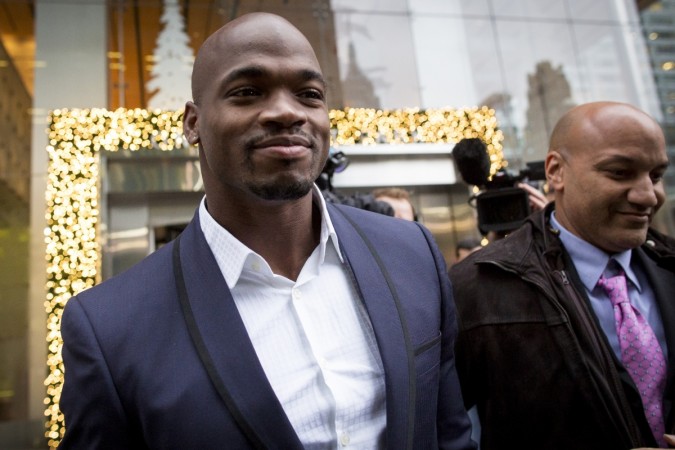 Minnesota Vikings running back Adrian Peterson has not left the team yet after the first round of the NFL (National Football League) 2015 draft, throwing up curiosity among watchers whether he will make a move or stay back.
Peterson's agent Ben Dogra had earlier told that his client wanted to make a fresh start with another team after going through a bad time last year but he has now made a u-turn, stating that the Vikings value the running back.
"One of the things that I appreciate with the Vikings is their resolve to say 'we're not trading him,'" Dogra told USA TODAY Sports. "That tells me they value him not only as a football player, but what he's done for the organization. I actually, as an agent, not only appreciate it — I accept it. But actions speak louder than words. If that's going to happen, and you want to keep him, then show him a commitment to make him retire as a Viking. And I haven't had that solution."
It may be recalled that the Vikings have repeatedly expressed its resolve to keep Adrian Peterson, rubbishing rumors of his trading.
"I'm not getting into who called or not called," Vikings general manager Rick Spielman told USA TODAY Sports Thursday night. "Adrian Peterson is under contract as a Minnesota Viking. End of story." He had said the same in the past too.
The fact is Peterson is on a contract with Minnesota Vikings over the next three years which is worth $46 million, and it will limit his option.
Adrian Peterson was reinstated by the NFL on 16 April after facing suspension for injuring his 4-year-old son by beating with a switch. The 30-year-old running back played only one game in 2014 following the suspension.