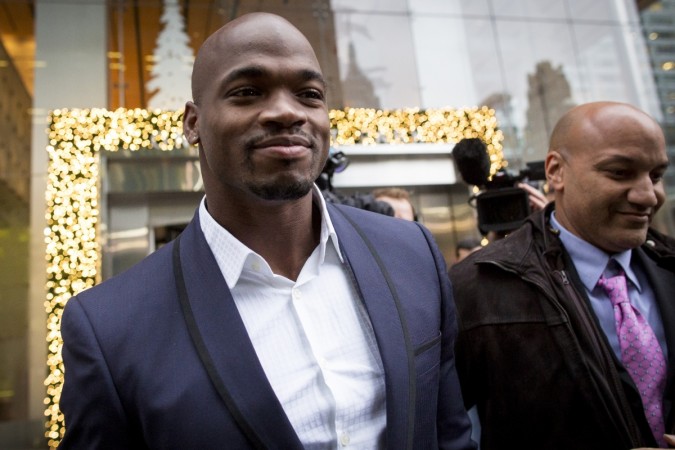 National Football League (NFL) has reinstated Minnesota Vikings running back Adrian Peterson after suspending him last year for injuring his 4-year-old son by beating with a switch. The 30-year-old running back, who played only one game in 2014 following the suspension, is now free to play for the Vikings effective Friday.
"Adrian Peterson of the Minnesota Vikings was advised today that effective tomorrow he is reinstated as an active NFL player and may participate in all scheduled activities with the Vikings," the NFL said Thursday in a statement obtained by NBC Sports.
"In a letter from Commissioner Roger Goodell, Peterson was informed that he is expected to fulfill his remaining obligations to the authorities in Minnesota and Texas, as well as the additional commitments Peterson made during his April 7 meeting with the commissioner regarding maintaining an ongoing program of counseling and treatment as recommended by medical advisors."
Adrian Peterson has also been informed that his "participation in the NFL depends on his avoidance of any further conduct that violates the Personal Conduct Policy or other NFL policies" and that further violation of the Personal Conduct Policy by Peterson would result in additional discipline, which could include suspension without pay or banishment from the NFL."
The Minnesota Vikings player was suspended without pay on 18 November after he pled no contest in state court on 4 November to beating of his 4-year-old son, thus missing out all the games of the 2014 season.
Minnesota Vikings have welcomed back Adrian following NFL listing suspension on him but it not sure if he will rejoin the team.
"The Minnesota Vikings have been informed by the NFL that Adrian Peterson has been reinstated. We look forward to Adrian re-joining the Vikings," said the Vikings in a statement.
However, it remains to be seen if Adrian Peterson will rejoin or leave the Vikings, as it was reported that he was not in the mood to return after all the turmoil he went through last year.
"We want out of Minnesota," Adrian Peterson's agent Ben Dogra told USA TODAY Sports last month, sparking off speculations that the running back might leave the Vikings.
However, Peterson is still under $12.75 million contract with the Vikings and that will limit his option. And the Vikings have not expressed its willingness to trade him.
"Adrian's a member of our football team," Vikings general manager Rick Spielman told media, according to USA TODAY Sports. "He's under contract with us. We are focused on the 2015 season and expect Adrian to be a part of that. Our whole focus is getting ready for that season with Adrian."
Peterson's agent Dogra has expressed dissatisfaction but hasn't pressed for a trade, so anything can happen. Perhaps Peterson will rejoin the Minnesota Vikings.