Brazilian sensation Neymar da Silva, who has officially joined Spanish giants Barcelona on Monday, said at his first appearance at the Camp Nou that he is excited to be a Barca player and eager to assist Lionel Messi.
The 21-year-old Brazilian striker on Monday signed a five-year deal with Barcelona for a whopping 57 million euros (£49m). Barca also agreed to play two friendlies with Neymar's former club Santos FC besides a monetary transaction.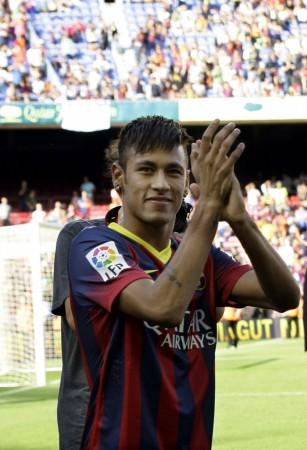 Neymar expressed his happiness at the Camp Nou where he was welcomed by over 50, 000 fans.
"I'm very happy to be a Barça player. I'm very excited, I've realised a dream. Thank you so much and Visca el Barça! I came to help. Barça are more than a Club and a great team and I want to help Messi to continue to be the best player in the world," Barcelona official site quoted the Brazilian star as saying.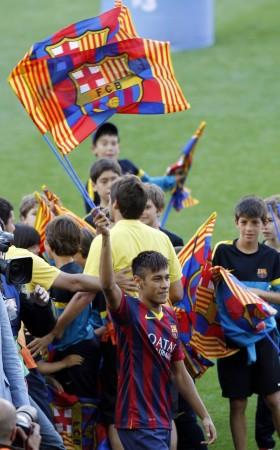 "I'm very happy to be here. This has always been my dream, both when I was a child and now that I'm an adult. I'm very emotional to have a the chance to play alongside players who I have admired since I was a kid, like Messi, Xavi and Iniesta," the 21-year-old told reporters at a press conference.
He went on to say that he has spoken to Barcelona coach Tito Vilanova over phome but hasn't met Lionel Messi.
Neymar, who has scored 20 goals in 33 appearances for his country, is considered to be one of the key players of Brazil for the 2014 World Cup. He was earlier linked with English clubs like Manchester United and Chelsea.
Neymar at Camp Nou video: